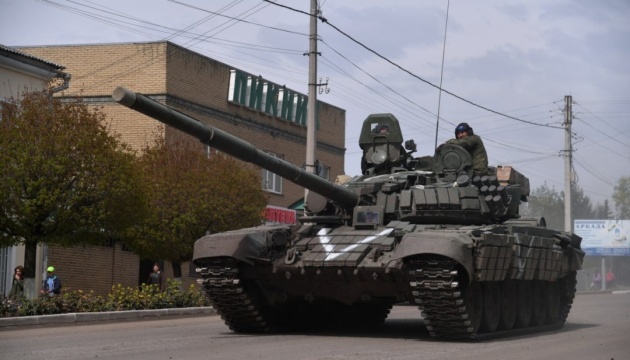 War update: Russians trying to build up multi-layered defenses in Zaporizhia direction
To hold the gained ground, the Russian invasion forces have focused on building multi-layered defense lines in Zaporizhia direction.
That's according to the General Staff of the Armed Forces of Ukraine.
The invaders' main goal remains "to establish full control over the territory of Donetsk, Luhansk and Kherson regions and ensure the stability of the land corridor with the temporarily occupied Crimea."
"In the Zaporizhia direction, in order to maintain the occupied territory, preparatory measures are underway to construct a multi-tiered defense," the report reads.
Russian aggressors in the Eastern Operational Zone keep firing on Ukrainian positions along the entire line of contact and at Ukraine's rear, being most active in Slobozhansky and Donetsk directions.
In the Sloviansk direction, Russian artillery shelled civilian and military infrastructure in the areas of the settlements of Dovhenke, Dolyna, and Husarivka.
Russian occupiers ran air reconnaissance missions using the Orlan-10 UAV in the areas of the settlements of Izium, Kapitolivka, and Dibrova, Kharkiv region.
In the Donetsk and Tavria directions, the Russians employed mortars, artillery, MLR systems, and aircraft to inflict losses on Ukraine's forces and destroy their fortifications.
In addition, the Russians are trying to improve their tactical situation in the areas of Komyshuvakha, Krasnohorivka, Novomykhailivka, Kostiantynivka, and Pobeda, albeit with no success.
In the city of Mariupol, the Russians are blocking the defending units near the Azovstal plant, inflicting massive artillery and air strikes on the site.
In the Zaporizhia direction, in order to maintain the occupied territory, there are preparatory measures underway on the part of the occupiers for the construction of a multi-tiered defense system.
A threat persists of missile and bomb strikes on military and civilian facilities across Ukraine.
In the Volyn and Polissia directions, the enemy took no significant action. Up to seven Belarusian army battalions are covering the Belarusian-Ukrainian border. Russian military equipment is being further transported away from Belarus.
In the Siversky direction, the Russians work to ensure enhanced protection of the Russian- Ukrainian border in Bryansk and Kursk regions.
In Kharkiv region, the enemy focused on ensuring the withdrawal of troops from the city of Kharkiv, maintaining the occupied positions and supply routes.
The situation in the South Buh area has not changed significantly. The enemy continues to shell the positions of Ukrainian troops with mortars and artillery.
Ten attacks by the Russian occupiers were repulsed in Donetsk and Luhansk regions, where Ukrainian forces destroyed five enemy tanks, five artillery systems, six armored combat vehicles, and seven trucks.
Ukraine's ai defense units shot down three Orlan-10 UAVs.