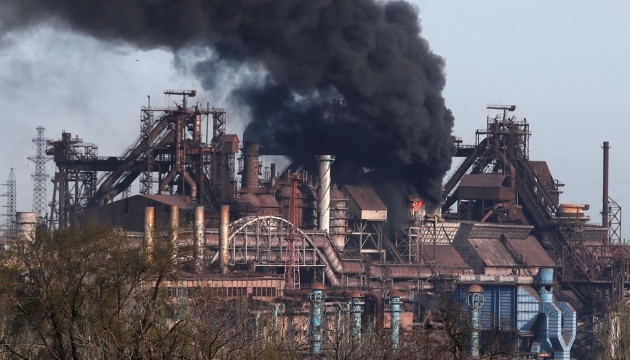 Azovstal defenders call on Western leaders to help with evacuation of the wounded
Russian troops continue to massively bombard the Mariupol-based Azovstal plant with planes. Many Ukrainian defenders, who have been seriously wounded, are remaining within the plant and need to be urgently evacuated.
The relevant statement was made by Azov Regiment Deputy Commander Captain Sviatoslav Palamar at a special panel session during the Kyiv Security Forum, an Ukrinform correspondent reports.
"The enemy is cynical; the enemy does not follow any international conventions. The enemy does not adhere to the Geneva Conventions. Knowing that about 600 wounded fighters are remaining within the Azovstal plant, they continue to drop bombs on a military hospital. This way, as usually, they violate all international regulations," Palamar said.
Palamar called on Western leaders to help with the evacuation of the wounded.
"I would like to address all representatives of this conference, thank you once again, and say that, perhaps, such a great nation and representatives of such a great nation, the United States of America, would help us to evacuate our wounded fighters," Palamar stressed.
Palamar asked them to make every effort, if possible, to help with the extraction procedure for the Ukrainian garrison. In his words, the courage of Mariupol defenders prevented the enemy from advancing.
"Believe me, if we had not done this, this horde would have gone farther on. They would have seized other areas, advanced deep into the territory of Ukraine, and the front line would have looked differently now," Palamar added.
A reminder that the Azov Regiment, marines, motorized riflemen and other Ukrainian forces continue to fight against Russian invaders within the Mariupol-based Azovstal plant. Ukraine is involving many countries, including Israel, Switzerland, Turkey and Finland, in negotiations with Russia to rescue the Ukrainian military from the Azovstal plant. About 600 seriously wounded fighters are remaining without drugs and medical aid there.
mk