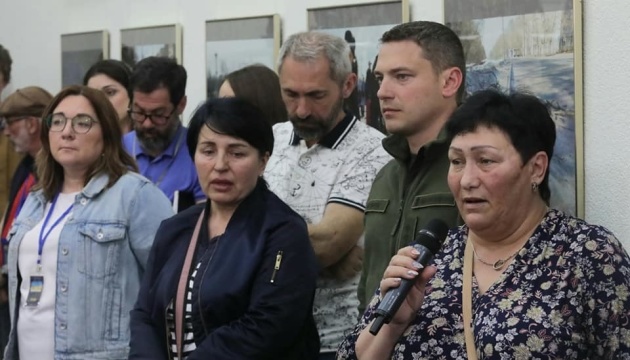 Relatives of soldiers blocked at Azovstal ask Erdoğan to help with extraction procedure
Relatives of Mariupol defenders ask President of Turkey Recep Tayyip Erdoğan to help rescue fighters from the Azovstal steelworks blocked by Russian troops through the extraction procedure.
They made a joint statement at Ukraine Media Center–Ukrinform.
Yevhen Sukharnikov, the father of one of the fighters, said: "My son is now there, at Azovstal, in this hell, just now, at the moment, they hold defense there… What is happening there now is not a war – it is a massacre, it is a violation of all conventions, it's just the annihilation of besieged people … And we demand extraction. We demand the extraction of our people, garrison fighters, from Azovstal together with the wounded and the bodies of fallen comrades."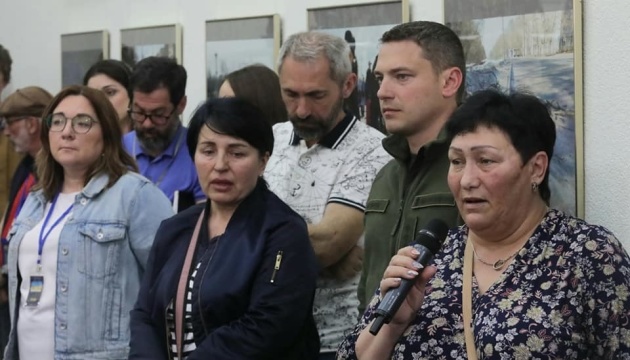 According to him, there are precedents in world history and during World War II, there is a modern example – in Syria, "where this procedure also takes place from time to time, by the way, with the involvement of Russia."
Sukharnikov said that a week ago, relatives of those currently blocked at Azovstal had issued a petition calling for extraction, already signed by nearly 1.5 million people. "This means that we have a great support of society, we only lack implementation," said the fighter's father.
He added that "a hero is needed" who could carry out the extraction of Ukrainian troops from Mariupol. According to Sukharnikov, the President of Turkey may become such a hero.
"I address personally President Recep Tayyip Erdoğan, as a man asking a man, as a father asking a father, to help take my son and his comrades out of there. You have some experience in implementing similar operations. We ask to send a civilian fleet, a civilian ship without weapons, to take our people. There are certain risks, we understand that, but we have very little choice. Either we take a risk and start this procedure, or the whole world watches how they are killed there," Sukharnikov said.
He was supported by other relatives of Mariupol defenders. In particular, Natalka Zarytska, the wife of Azov Regiment fighter, addressed the President of Turkey and spoke a few phrases in Turkish.
"While my husband and his comrades come under fire, I address other strong men in the world, including honorable President of Turkey Recep Tayyip Erdoğan: please help us save the lives of our soldiers, our fighters in Mariupol. You have authority in the world. We love our husbands as much as Hurrem Sultan loved Sultan Suleiman the Magnificent," the woman said.
She noted that hundreds of wounded stayed in inhumane conditions at Azovstal without painkillers. "They are dying from basic injuries, but there are also heavily wounded," Zarytska stressed.
She called for the rescue of the soldiers, who are currently besieged under heavy enemy fire.
"The enemy shells from the sea, from the air, from the ground. Today Mariupol is the biggest wound on the body of the world, it is the biggest tragedy of the 21st century," the woman stressed.
She said that time was running out: "The war has shifted the timeframe of our lives. If the world has allowed a monster like the Russian Federation to grow up, the world must fight it collectively… My husband is there, at Azovstal. We ask everyone: save our soldiers. We ask all communities, all countries of the world, please help!"
As reported, Ukraine proposed to Russia to exchange severely wounded Azovstal fighters for Russian prisoners according to the rules of prisoner exchange.
According to Deputy Prime Minister – Minister for Reintegration of the Temporarily Occupied Territories Iryna Vereshchuk, it is currently impossible to unblock Azovstal by military means. Defenders of Azovstal are not going to surrender, and the Russians do not agree to the extraction procedure.
The Ukrainian military defends the territory of the steelworks, which is under constant attacks and assaults of Russians involving all kinds of weapons, including airplanes and naval artillery. Several hundred wounded Ukrainian servicemen stay in the Azovstal steelworks. There is an acute shortage of medicines. People are dying in agony.
According to President Zelensky, the Ukrainian authorities now work on diplomatic options to save the Ukrainian military defending the Azovstal.
Soldiers of the Azov Regiment, the National Guard, marines, and motorized riflemen continue to defend Mariupol.
ol