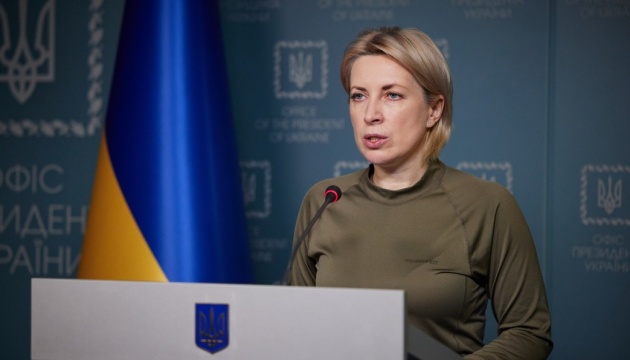 Vereshchuk on situation at Azovstal: We are looking for workable option
Ukraine is looking for a workable option for resolving the critical situation with Azov Regiment soldiers trapped at the Azovstal steel plant in Mariupol.
According to Ukrinform, Ukraine's Deputy Prime Minister Iryna Vereshchuk said this on Telegram.
"As of now, it is impossible to unblock Azovstal by military means. Azovstal's defenders do not want to surrender. It is worthy of respect. The Russians do not agree to an 'extraction.' This is a reality, but it is not surprising from the Russians," Vereshchuk wrote.
She said that the government is working on different options and none of them is ideal.
"But we are looking not for an ideal option, but for a workable one. As a first step, we offered the Russians the following exchange: We are taking our badly wounded guys from Azovstal along a humanitarian corridor. Instead, we are handing over Russian prisoners according to the standard rules of prisoner exchange," Vereshchuk said.
She added that no agreement has been reached yet, negotiations are underway.
As Ukrinform reported earlier, Russian invaders are attacking the defenders of Mariupol not only with aircraft and artillery, but also with tanks, and are trying to break through with manpower.
The Azov Regiment said that on May 10, Russian invaders launched 38 air strikes on Azovstal, including four raids by strategic bombers.
On May 7, Vereshchuk said that all women, children and the elderly had been evacuated from the Azovstal plant, and that part of the Mariupol humanitarian operation had been completed.
The Russians are constantly shelling the steelworks with all kinds of weapons, including airplanes and naval artillery. The Ukrainian military, including several hundred wounded, is holding out against constant attacks. There is an acute shortage of medicines and people are dying in agony.
Ukrainian President Volodymyr Zelensky said that the Ukrainian authorities were working on diplomatic options to save the Ukrainian military trapped at the Azovstal steelworks.