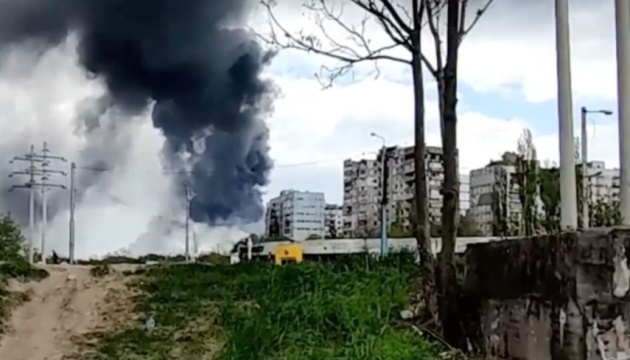 Azovstal on fire after bombardment. Enemy trying to assault steelworks with tanks
Azovstal steelworks in Mariupol is currently being attacked by Russian invaders with aircraft, artillery, and tanks.
"Mariupol. Azovstal. Right now… Azovstal is being attacked not only from the sky and with artillery, but again with tanks and is tried to be assaulted with manpower. Azovstal is on fire again after bombardment," Petro Andriushchenko, adviser to Mariupol mayor, posted on Telegram.
He noted that leader of the so-called "Donetsk People's Republic" Denis Pushilin said that he had his hands free as there were no civilians at Azovstal.
"I do not know what greater inhumanity in the attacks can be expected, but, given the statement, it is possible … If there is hell on earth, it is there. We all are deeply indebted to the Defenders of Mariupol," the mayor's adviser stressed.
He published a video of enemy attacks on the Azovstal steelworks.
Mariupol experiences the biggest humanitarian catastrophe due to Russia's aggression. On May 7, Deputy Prime Minister and Minister for Reintegration of the Temporarily Occupied Territories Iryna Vereshchuk said that all women, children and the elderly had been evacuated from the Azovstal steelworks.
The Ukrainian military defends the territory of the steelworks, which is under constant attacks and assaults of Russians involving all kinds of weapons, including airplanes and naval artillery. Several hundred wounded Ukrainian servicemen stay in the Azovstal steelworks. There is an acute shortage of medicines. People are dying in agony.
According to President Zelensky, the Ukrainian authorities now work on diplomatic options to save the Ukrainian military defending the Azovstal.
Soldiers of the Azov Regiment, the National Guard, marines, and motorized riflemen continue to defend Mariupol.
ol