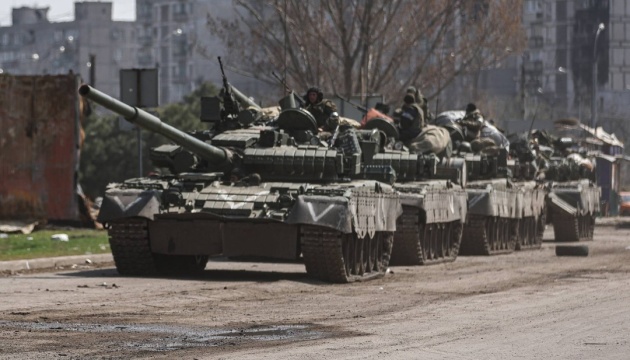 Missile attacks, hardware, Wagner fighters: Enemy trying to break into Popasna
In Luhansk region, Russian troops want to break into Popasna and in the direction of Sievierodonetsk and Voyevodivka. The fighters of Russian private military company, the Wagner Group, and a large number of military hardware are involved in the breakthrough operation.
"The situation is very difficult, but under control. The enemy makes the greatest efforts to break into Popasna and in the direction of Sievierodonetsk and Voyevodivka. That's where they threw the largest number of hardware and personnel, Wagner fighters, that's where the largest number of missile attacks, air strikes is launched… There is a rather terrible situation," Head of the Luhansk Regional Military Administration Serhiy Haidai posted on Telegram.
The Ukrainian military is holding on and waiting for help and reinforcement. "I hope that everything will be fine," Haidai added.
According to him, Kadyrov's fighters from Chechnya do not participate in military operations in Luhansk region, they are busy looting and shooting videos.
The captured Russian servicemen say that the invaders have one goal: to reach the geographical borders of Luhansk region.
"The next few days will be difficult as the Russians will try to do 'something' to report on to Putin on May 9, so I urge [the residents] to be careful, sit in shelters, limit your stay outside," the head of the administration said, noting that the evacuation of civilians is ongoing.
As reported, Luhansk region is under constant Russian army attack. Many houses, infrastructure facilities, educational institutions were destroyed, all hospitals were damaged. About 50,000 civilians refused to evacuate and stay in the region.
On February 24, the Russian Federation launched a new phase of the war against Ukraine – a full-scale invasion. Russian invaders shell and bomb Ukrainian cities, towns, and villages, torturing and killing civilians.
ol