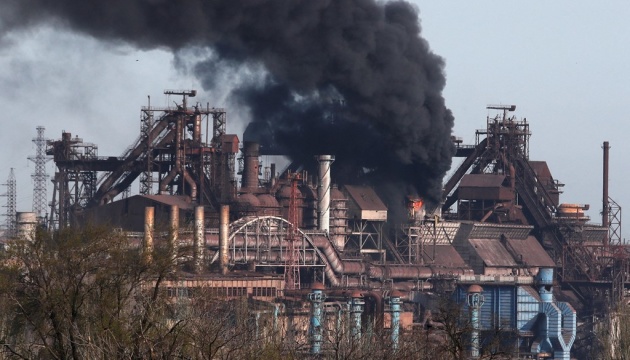 Connection with Azov Regiment recovered. Russian troops enter Azovstal territory – Arakhamiya
As of the evening of May 4, the Ukrainian authorities have recovered connection with the defenders of Mariupol who stay in the territory of the Azovstal steelworks. Russian troops have already entered the Azovstal's territory.
Davyd Arakhamiya, MP, head of the Ukrainian delegation for talks with Russia, head of the Servant of the People parliamentary faction, said this in a comment to RFE/RL.
"Attempts to storm the plant have been made for the second day in a row. Russian troops are already in the territory of Azovstal," Arakhamiya said, referring to the Azov Regiment commander.
He did not disclose any details.
Earlier, the General Staff of the Armed Forces of Ukraine reported that Russian troops had resumed the offensive with the air support in some areas of Mariupol in order to take control of the Azovstal plant.
As reported, Secretary of the National Security and Defense Council Oleksiy Danilov stated that it was currently impossible to conduct a military operation in Mariupol as Ukraine did not have a sufficient number of heavy weapons and armored vehicles.
According to Iryna Vereshchuk, Deputy Prime Minister and Minister for the Reintegration of the Temporarily Occupied Territories of Ukraine, 156 people have been evacuated from Azovstal so far. Several hundred people remain at the plant's territory, including more than 40 seriously wounded soldiers.
On April 30, the command of the Azov Regiment, which defends Mariupol, reported that 20 women and children had been evacuated from the plant's territory. The evacuation of people from the Azovstal plant in Mariupol does not concern the military and the wounded, because the United Nations, with the assistance of which the evacuation mission is underway, does not assume such responsibility.
Mariupol experiences one of the biggest humanitarian catastrophes due to Russia's aggression.
Azov Regiment soldiers, the National Guard members, marines and motorized riflemen continue to defend Mariupol.
ol