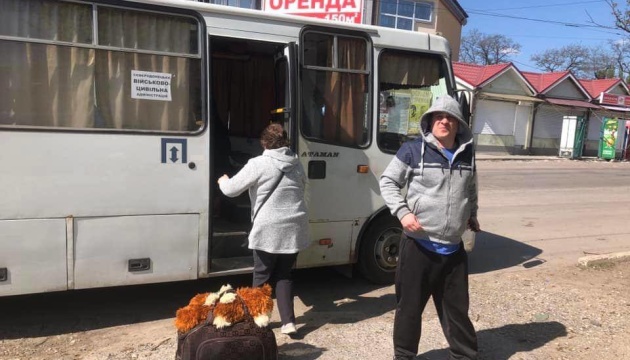 Another 49 people evacuated from Luhansk region
On Tuesday morning, May 3, 49 civilians were evacuated from Luhansk region despite the enemy shelling.
"Evacuation is complicated by shelling. We managed to take 49 people out. Thirty-nine residents of Lysychansk and ten residents of Sievierodonetsk are heading now to the safe cities of the country. This night they will fall asleep in silence," Head of the Luhansk Regional Military Administration Serhiy Haidai posted on Telegram.
As noted, not many people are willing to leave despite the fact that the shelling intensifies and supply of utility services will not be restored.
There is no centralized water supply throughout the region. Almost 100,000 households have no electricity supply, and gas is partially available only in six settlements.
"There are still 60,000 people left in free [government-controlled] Luhansk region. Humanitarian aid was delivered for them and is already being transported to bomb shelters. Access to Rubizhne, Popasna, and Hirske communities is difficult," Haidai noted.
As reported, Luhansk region is under constant attack of Russian army. Many residential buildings, infrastructure facilities, educational institutions were destroyed in the region and all hospitals were damaged.
On February 24, the Russian Federation launched a new phase of the eight-year war against Ukraine – a full-scale invasion. Russian invaders shell and bomb peaceful Ukrainian cities, towns, and villages, torturing and killing civilians.
ol