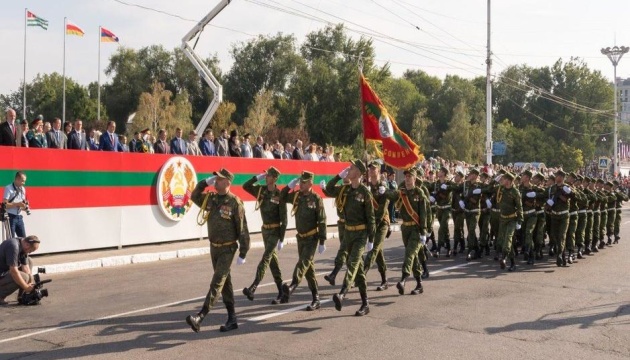 Transnistria no big threat to Ukraine - intelligence
Kyrylo Budanov, head of the Defense Ministry's Main Intelligence Directorate, believes that Transnistria poses no major threat to Ukraine, while remaining a destabilization factor for the entire region.
The top spy spoke in an interview with NV, Ukrinform reports.
Answering questions about Transnistria, Budanov said: "This is no major threat. But it is a factor of destabilization for the whole region: Romania, Moldova, and us."
In his opinion, Transnistria is a huge military problem for Russia. After all, this is a territory that Russia fully controls, but has no approach to as it borders with Moldova and Ukraine. "And no matter what they say there, they can't accomplish anything serious there. The units based in Transnistria are all they have there, which is about 1,300 people. These are Russian official troops in the whole region. Most of them guard the warehouses in the village of Kolbasna. Also, they guard a radio center in the village of Maiac, and they are also based in Tiraspol," Budanov said.
Commenting on the moods prevailing in the Russian army, the head of Ukrainian defense intelligence noted that the forces are completely demotivated. "However, there is a military vertical – they have their commanders, and they will be forced to carry out the orders. Whether they like it or not, there is an order, and you will have to follow it. There are different options. Therefore, their morale isn't important. They will carry out the order," he said.
In addition, according to Budanov, there is manpower shortage in the Russian army. In particular, a huge number of Russian generals, senior command staff "went down to commanding battalions, and in some cases companies – manually."
In this context, Budanov noted that if the Chief of the General Staff of the Armed Forces of Russia Valery Gerasimov was forced to go to the front line, "apparently something happened there."
There is only one reason – failure to implement plans to advance. The occupation is failing, they are behind schedule. They had their main deadline – to complete the 'special operation' by April 24 – but they failed with that. Another date was to wrap up the operation, at least in relation to Donbas, until May 9. If they fail here, too, this will further complicate the political coloring of the whole process," he said.
According to the intelligence chief, Putin cannot allow himself to lose to Ukraine. And to this end, he needs to claim Russia is facing a serious adversary, conditionally suggesting: "Maybe we will lose a little bit, but we will not lose to Ukraine."
As reported, on May 1, a number of media outlets reported that the Chief of the General Staff of the Armed Forces of Russia Valery Gerasimov was wounded near Izium. At the same time, Ukraine officials did not confirm the reports.
From February 24 to May 2, the Ukrainian Armed Forces eliminated about 23,800 Russian invaders.