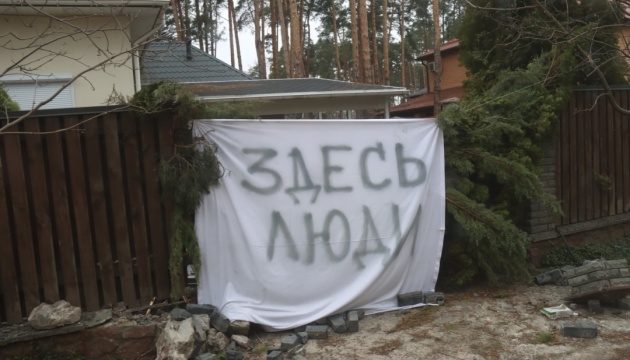 More evidence of Russian atrocities in Ukraine against civilians exposed in intercept - media
Russian soldiers bludgeoned Ukrainian children and the elderly to death with rifle butts and executed whole families.
That's according to the intercepted communications of Russian invasion forces, Guildhall reports citing an intelligence source.
More facts of the unprecedented brutality of Russian war criminals were revealed in a call recorded on March 19 between a serviceman of one of the Russian invasion units, Senior Sergeant Oleg Dodzhiev (1), and another serviceman (2) who was stationed in Moscow at the time.
1 - Actually, I've grown so disappointed with this deployment.
2 - Don't tell me what you were disappointed in. I get it.
1 - Sanya, it's just that the things we're our people are doing here... It's totally f'cked up, I'm telling you. Our guys are slamming kids with rifle butts. You see? They get drunk and break into people's homes, hitting small children in the face with a rifle butt. Old people are f*cking beaten to death. Also, those 'striped' forces of our so-called elite. The blue, white, and muddy ones (Russia's airborne troops - ed.), they've been doing some crazy sh*t. When they see civilian convoys – families, children –they annihilate the whole f*cking column, everyone.
It has also become clear from the intercepts that the Russian generals personally issue orders to set Ukrainian households on fire.
Russian war criminal Lieutenant General Andrei Gurulev ordered his subordinates to literally throw burn the homes of Ukrainians after throwing families out on the street.
An intercept of a call made at 8:00 on February 28, 2022, proves that General Gurulev gave the following instructions to one of the invading units:
"Burn them, damn it, burn them! Once you've thrown them out of there – finish the house, burn it down! Spit at that f*cking humanism!"
Lieutenant General Andrei Gurulev, who is also a Russian MP, has a history of war crimes committed.
In 2014, he was among Russia's top military officials who led the occupation of Donbas. From the fall of 2014 until late spring 2015, he was at the helm of the 12th reserve command (at that time - the center for territorial forces, Novocherkassk, Russia) of the southern military district (Rostov-on-Don), before returning to the post of commander of the 58th army (Vladikavkaz) of the same military district.