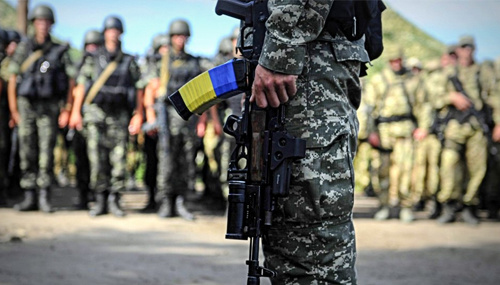 Mobilization in Ukraine could be extended after May 24 – defense official
Depending on the situation at the front, mobilization in Ukraine could be extended after May 24.
Roman Horbach, chief of the personnel department at the headquarters of the Command of the Ukrainian Ground Forces, said this at a briefing at the Ukraine Media Center-Ukrinform, according to an Ukrinform correspondent.
"The mobilization was announced for three months, from February 24, and it is about to end soon, but it does not mean that it can end. Everything will depend on the situation that will be recorded during that period [on May 24]. If necessary, we will continue to replenish the ranks of our military units with service members, and if necessary, the state leadership will decide to extend the terms of this mobilization. [...] If there is such a need, if the hostilities continue, there will definitely be a need to replenish our units with military specialists. Therefore, I think the leadership will extend the mobilization after May 24," Horbach said.
At present, he added, the mobilization has been going on for more than two months. According to him, the mobilization was fulfilled in full in terms of quantity and quality and now its pace has decreased slightly.
"The mobilization continues at a much slower pace, because in late February and early March, the combat component of both the Armed Forces and other components of the defense forces were manned to a greater extent. Now we are carrying out additional staffing, replenishment of military units with people who need to be staffed. The pace is much lower, but everything is going according to plan," Horbach said.
Russian President Vladimir Putin on February 24 announced a full-scale invasion of Ukraine. Russian troops have been shelling and destroying infrastructure and residential areas of Ukrainian cities, towns and villages using artillery, multiple rocket launchers and ballistic missiles.
On February 24, President Volodymyr Zelensky signed a decree announcing mobilization in connection with Russia's military aggression. The mobilization lasts for 90 days from the date the decree came into force.