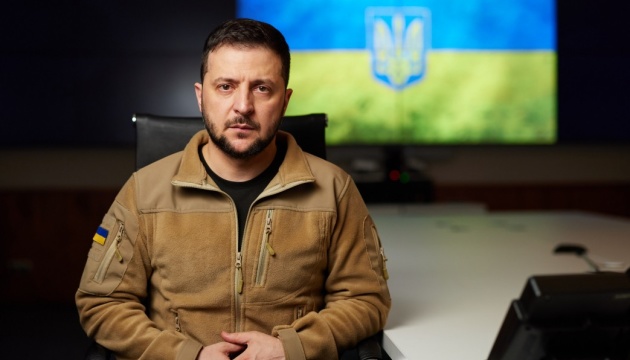 Zelensky: Mariupol and Azovstal defended by professional soldiers
The city of Mariupol and the Azovstal steelworks are defended by the professional Ukrainian military.
"Mariupol is defended by professional soldiers, not only by the Azov Battalion but also by National Guard members, border guards, paratroopers. That is, the Armed Forces of Ukraine. And with all due respect to any volunteers, they did a lot at the beginning of the war, no one can fight the way the Armed Forces fight. And no matter who the volunteers are, we are grateful to them, but only professional soldiers can defend Azovstal and Mariupol the way they do," President Volodymyr Zelensky told Greek newspaper EPT News in an interview, an Ukrinform correspondent reports.
He explained that at the beginning of the war, in 2014, when Ukraine had not had the powerful armed forces, the enemy was resisted by volunteers – Ukrainians from different parts of the country who united to defend the country. According to the President, many of their statements on Russia and its actions in Ukraine were discussed as radical.
"They were volunteers, it was their personal opinion. The Armed Forces is a different thing. I want everyone to understand the difference. We have the Azov Battalion, which ... is part of the National Guard of our state, and they are the part of the Armed Forces of Ukraine. They are the official army of our state," the President stressed.
According to him, those, who voluntarily went to defend Ukraine from Russian aggression, have chosen different paths since 2014: some went into politics, and some chose a military specialty and stayed in the Armed Forces, and "these things must be distinguished."
On February 24, Russian president Putin announced the beginning of a full-scale invasion of Ukraine. Russian troops shell and destroy key infrastructure facilities, massively shell residential areas of Ukrainian cities, towns, and villages using artillery, MLRS, and ballistic missiles.
ol