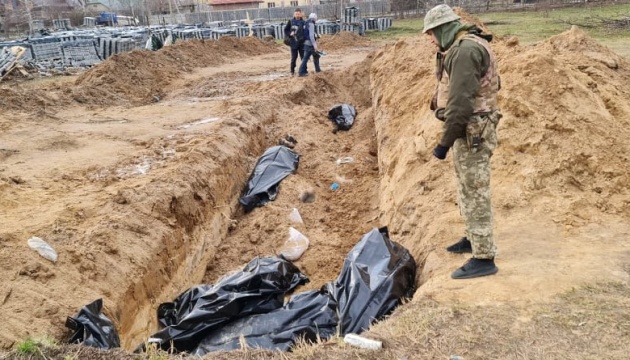 1,202 bodies of civilians killed by Russian troops already found in Kyiv region
In Kyiv region, law enforcement officers have already found 1,202 bodies of Ukrainian citizens killed by Russian invaders. The bodies were handed over to forensic medical institutions to determine the cause of death.
"Unfortunately, we have horrible finds and record the crimes committed by the Russian army in Kyiv region almost every day. So far, 1,202 bodies of killed civilians have been examined by investigators and handed over to forensic institutions to determine the final cause of death. Of them, 280 people are currently unidentified," Kyiv region police chief Andriy Nebytov said during the nationwide telethon, an Ukrinform correspondent reports.
As noted, the criminal police make efforts for the bodies to be identified. In particular, DNA is collected, the data is entered into a common database, and then law enforcement officers work with relatives to compare these data.
According to Nebytov, 300 people are currently considered missing and their fate is unknown. This figure changes every day as more people are added to the list of those missing. According to him, law enforcement officers establish the whereabouts of a certain number of people every day.
"We search among the dead [missing people], but we hope to find these people alive. We know that many people lost connection because they lost their mobile phones as the occupiers had confiscated those phones, or even because people had been forcibly evacuated to Belarus or Russia," Nebytov said.
As reported, 1,187 bodies of civilians killed by the Russian military in Kyiv region were found as of April 29.
ol