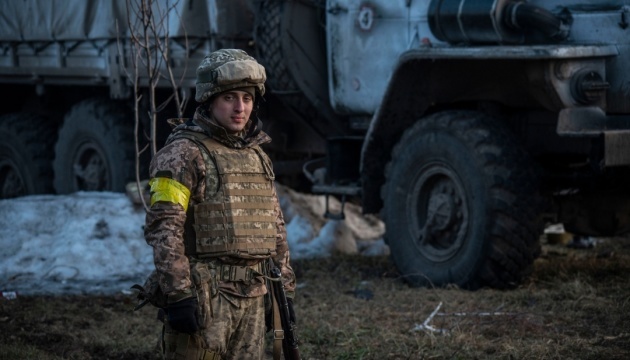 Let's support the unbreakable: NBU's special fundraising account to support Ukraine's Armed Forces
The National Bank of Ukraine (NBU) has opened a special fundraising account to support the Armed Forces of Ukraine.
NBU Governor Kyrylo Shevchenko announced the opening of this special account in his video address on February 24, Ukrinform reports referring to the central bank's website.
The number of the special account: UA843000010000000047330992708
It is noted that the account accepts multiple currencies. It has been established and opened to receive transfers from international partners and donors in both foreign currency and hryvnias.
Account information
For UAH remittances:
Bank: National Bank of Ukraine
MFO 300001
Account No. UA843000010000000047330992708
EDRPOU Code 00032106
Payee: National Bank of Ukraine
For USD remittances:
BENEFICIARY: National Bank of Ukraine
BENEFICIARY BIC: NBUA UA UX
BENEFICIARY ADDRESS: 9 Instytutska St, Kyiv, 01601, Ukraine
ACCOUNT NUMBER: 804790258
BENEFICIARY BANK NAME: JP MORGAN CHASE BANK, New York
BENEFICIARY BANK BIC: CHASUS33
ABA 0210 0002 1
BENEFICIARY BANK ADDRESS: 383 Madison Avenue, New York, NY 10017, USA
PURPOSE OF PAYMENT: for crediting account 47330992708
For EUR remittances:
BENEFICIARY: National Bank of Ukraine
BENEFICIARY BIC: NBUAUAUX
BENEFICIARY'S ACCOUNT: UA843000010000000047330992708
BENEFICIARY'S BANK: National Bank of Ukraine
CORRESPONDENT ACCOUNT: IBAN DE05504000005040040066
CORRESPONDENT BANK: DEUTSCHE BUNDESBANK, Frankfurt
SWIFT CODE: MARKDEFF
For GBP remittances:
BENEFICIARY/RECIPIENT NAME: National Bank of Ukraine
SORT CODE: 60-92-42
ACCOUNT NUMBER: GB52CHAS60924280033041
REFERENCE FOR CREDITING ACCOUNT: 47330992708
BENEFICIARY BIC: NBUA UA UX
BENEFICIARY ADDRESS: 9 Instytutska St, Kyiv, 01601, Ukraine
BENEFICIARY BANK NAME: JP MORGAN CHASE BANK NA, London
BENEFICIARY BANK BIC: CHASGB2L
BENEFICIARY BANK ADDRESS: 125 London Wall, London EC2Y 5AJ, UK
For CHF remittances:
BENEFICIARY: National Bank of Ukraine
BENEFICIARY BIC: NBUA UA UX
BENEFICIARY ADDRESS: 9 Instytutska St, Kyiv, 01601, Ukraine
ACCOUNT NUMBER: 0700-01227572
IBAN CH32 0070 0070 0012 2757 2
BENEFICIARY BANK NAME: ZURCHER KANTONALBANK, ZURICH
BENEFICIARY BANK BIC: ZKBKCHZZ80A
BENEFICIARY BANK ADDRESS: Josefstrasse 222, 8005 Zurich, Switzerland
PURPOSE OF PAYMENT: for crediting account 47330992708
For AUD remittances:
BENEFICIARY: National Bank of Ukraine
BENEFICIARY BIC: NBUA UA UX
BENEFICIARY ADDRESS: 9 Instytutska St, Kyiv, 01601, Ukraine
ACCOUNT NUMBER: 81753-2
BENEFICIARY BANK NAME: RESERVE BANK OF AUSTRALIA, Sydney
BENEFICIARY BANK BIC: RSBKAU2S
BENEFICIARY BANK ADDRESS: GPO Box 3947, Sydney NSW 2000, Australia
PURPOSE OF PAYMENT: for crediting account 47330992708
For CNY remittances:
BENEFICIARY: National Bank of Ukraine
BENEFICIARY BIC: NBUA UA UX
BENEFICIARY ADDRESS: 9 Instytutska St, Kyiv, 01601, Ukraine
ACCOUNT NUMBER: 447-0-946243-6
BENEFICIARY BANK NAME: STANDARD CHARTERED BANK, Hong Kong
BENEFICIARY BANK BIC: SCBLHKHH
BENEFICIARY BANK ADDRESS: GPO Box 21, Hong Kong
PURPOSE OF PAYMENT: for crediting account 47330992708
For CAD remittances:
BENEFICIARY: National Bank of Ukraine
BENEFICIARY BIC: NBUA UA UX
BENEFICIARY ADDRESS: 9 Instytutska St, Kyiv, 01601, Ukraine
ACCOUNT NUMBER: 3144-1044-166
BENEFICIARY BANK NAME: BANK OF MONTREAL, Toronto
BENEFICIARY BANK BIC: BOFMCAM2
BENEFICIARY BANK ADDRESS: 100 King Street West, 24th Floor, Toronto, Ontario, M5X 1A1, Canadа
PURPOSE OF PAYMENT: for crediting account 47330992708
For JPY remittances:
BENEFICIARY: National Bank of Ukraine
BENEFICIARY BIC: NBUA UA UX
BENEFICIARY ADDRESS: 9 Instytutska St, Kyiv, 01601, Ukraine
ACCOUNT NUMBER: 653-0430048
BENEFICIARY BANK NAME: MUFG BANK LTD, Tokyo
BENEFICIARY BANK BIC: BOTK JP JT
BENEFICIARY BANK ADDRESS: 1-2-3, Nihombashi HONGOKU-CHO, Chuo-ku, Tokyo 1003 -0021 Japan
PURPOSE OF PAYMENT: for crediting account 47330992708