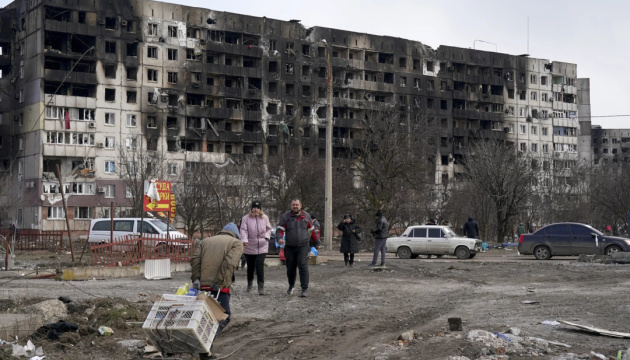 Russians killed twice as many residents of Mariupol as Nazis during World War II
During a two-month siege of the Ukrainian port city of Mariupol, the Russian army killed twice as many people as the Nazis during the two years of occupation of the city during World War II.
Mariupol Mayor Vadym Boichenko said this on Telegram, Ukrinform reports.
"Within two years, the Nazis killed 10,000 civilians in Mariupol. The Russian occupiers killed more than 20,000 residents of Mariupol within two months. More than 40,000 people were forcibly deported. This is one of the worst genocides against civilians in modern history. The Russian army is purposefully and ruthlessly destroying our city and its inhabitants," Boichenko said.
The city council stressed that "Ruscism is the fascism of the XXI century." "Mankind has paid a high price for the victory over fascism in the last century. If we do not unite today and do not stop this evil, the price this time may be much higher," the statement said.
Russia's aggression has caused one of the biggest humanitarian catastrophes in Mariupol. The invaders are bombing unarmed residents and blocking humanitarian aid.
The mayor of Mariupol previously said that since the beginning of the Russian invasion. Up to 20,000 civilians have been killed in the city. According to the Main Intelligence Directorate of Ukraine's Defense Ministry, 13 Russian mobile crematoriums were registered in Mariupol to clean the streets of the bodies of dead civilians. The invaders are trying to identify and destroy all potential witnesses to Russian atrocities.
More than 100,000 civilians remain in Mariupol.
Photo: Evgeniy Maloletka