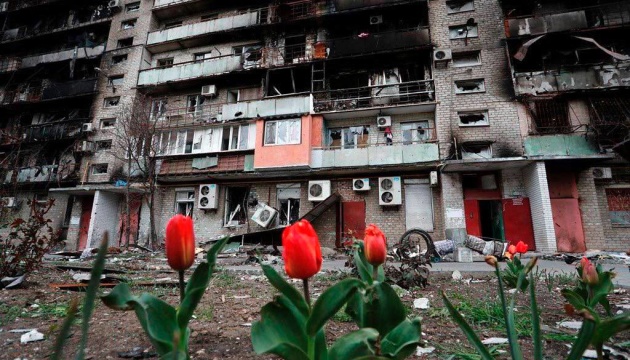 President's Office: Russia rejects any proposals to save people in Mariupol
The world is ready to help save the people of Mariupol from Russian bombing, but the Russian side rejects any proposals because it is "symbolic" for the enemy to destroy the city and its defenders - the Azov Regiment.
An adviser to the Ukrainian President's Office head, Mykhailo Podoliak, said this in a statement posted on the website of the Servant of the People party.
"The President and the head of the President's Office are continuously appealing to the world leaders to help us convince the Russian side of the need for a humanitarian corridor from Mariupol. Some political leaders turn to Putin through their personal channels, urging him to do this for humanistic reasons. However, unfortunately, there is no response from the Russian side," Podoliak said.
According to him, the Russians show absolute unwillingness to talk and make at least some concessions in terms of the humanistic component. For them, it is symbolically to destroy Mariupol and the Azov.
As reported, Russian troops have caused a major humanitarian catastrophe in Mariupol. The invaders are bombing unarmed residents and blocking humanitarian aid.
There are about 1,000 civilians and Ukrainian servicemen at the Azovstal steel plant in Mariupol, including about 500 wounded. Ukrainian authorities are demanding that the Russians provide an urgent humanitarian corridor from the besieged Azovstal steel plant.
iy