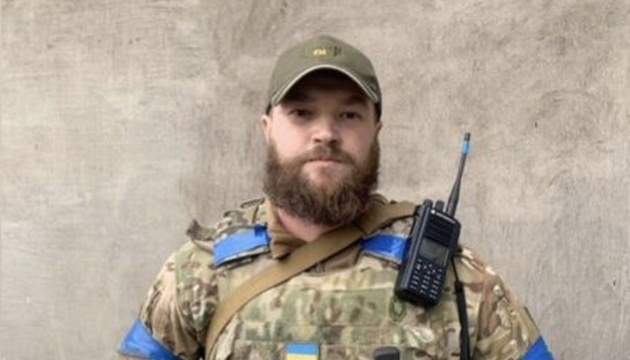 Azov Regiment: As long as we're here and holding the defense, Mariupol is not theirs
The Ukrainian military in the besieged city of Mariupol will fight as long as they have to, although the situation is difficult.
The relevant statement was made by Azov Regiment Deputy Commander Captain Sviatoslav Palamar in an interview with Reuters, an Ukrinform correspondent reports.
"As long as we're here and holding the defense... the city is not theirs," Palamar said.
In his words, Russia's offensive tactics in Mariupol is constantly changing.
"The tactic (now) is like a medieval siege. We're encircled, they are no longer throwing lots of forces to break our defensive line. They're conducting air strikes," Palamar told.
Palamar refused to give precise details about operations, because they could help the enemy. He would not say how much food and ammunition they had left, but that they still had hundreds of fighters.
"Of course our resources aren't infinite, and they are running lower with every passing day of intense fighting. The situation is difficult, but we're going to battle and fight for as long as we have to," Palamar noted.
He said they had more than 500 wounded fighters, some in serious condition.
"We don't have the conditions to treat them, to carry out really difficult surgery.. Medicine is running out, bandages and food and water," Palamar added.
In his words, hundreds of civilians are also staying within the Azovstal plant.
"We bring them (civilians) food and check on their health, but we can't stay with them for obvious reasons: the enemy could stage a provocation and say that...We were hiding behind civilians," Palamar explained.
According to Palamar, once the civilians are out, the wounded and the dead should be taken back to Ukraine, and safe passage secured for the Ukrainian contingent there.
Meanwhile, the Ukrainian military do not consider an option of being taken prisoner.
"They'll be killed in captivity, they'll be maimed, and that's why we propose having a third party that during negotiations can guarantee their exit from Azovstal," Palamar stressed.
In his words, Turkey or Israel could act as possible third parties.
According to Palamar, the Azov Regiment in Mariupol consists of the representatives of different ethnicities, including Russians, Bulgarians, Crimean Tatars, Greeks, Jews, etc.
Palamar urged the world to wake up to the threat from Russia and to stop being soft on Moscow.
"I hope the world now realizes its mistake... Everything that our soldiers do here – not only in Mariupol, but on Ukraine's territory – we are convinced we are saving not only Ukraine, but also Poland, Lithuania, Latvia, Estonia, Moldova and Georgia," Palamar stated.
A reminder that the Russian armed aggression has caused one of the worst humanitarian catastrophes in the city of Mariupol. More than 1,000 civilians and Ukrainian servicemen, including about 500 wounded, are remaining within the Mariupol-based Azovstal plant. The Ukrainian side demands that Russia immediately ensure a humanitarian corridor from the plant.
mk