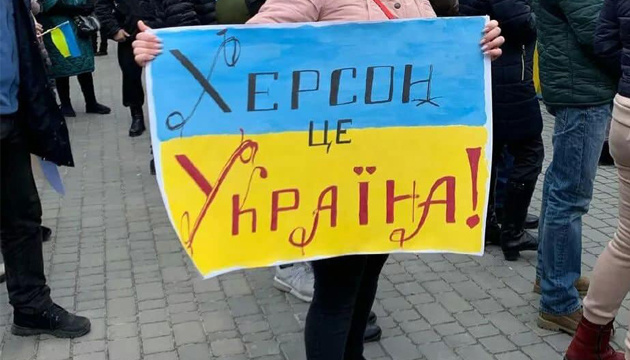 In Kherson, invaders disperse anti-referendum rally with light and noise grenades
In Kherson, locals took to the streets for a peaceful protest against the pseudo-referendum on establishing a sham "republic" in the area and the Russian occupation of their region. To disperse the crowd, the occupiers applied teargas and light-noise grenades.
Casualties are reported. Some civilians were detained, according to Ukrinform. Kherson residents are posting a video of the rally across Facebook groups.
The video shows people leaving Freedom Square – they are coughing, while the crowd is heard chanting "Kherson is Ukraine!"
"On April 27 ... as people went to the rally, the 'light and noise show' began ... this is how occupied Kherson lives," the participants in the event commented on the video. They note that people took part in the rally against the "pseudo-referendum," to show that Kherson is and will remain part of Ukraine.
People were pelted with gas and light-noise grenades, one participant notes.
The occupiers are heard warning the locals that any rallies or demonstrations are banned in the area altogether.
It is clear from the video that there is a wounded man who is supposed to be rushed from the scene by an ambulance, and there is a comment that one of the protesters was detained.
As Ukrinform reported earlier, the occupiers are trying to identify and apprehend participants in pro-Ukrainian rallies in Kherson, but people are still taking to the streets. According to the Verkhovna Rada Commissioner for Human Rights, Liudmyla Denisova, Russian aggressors intend to hold a so-called "referendum" on creating a "Kherson People's Republic" in the region from May 1 to May 10.
Meanwhile, civilians are being abducted in the region, including journalists, community leaders, deputies, and activists. The Ministry of Digital Transformation has created a secure chatbot for Kherson region residents, which is intended to help people find out about the fate of those gone missing.
In Kherson, the Russian occupiers held a "meeting" to present the "head of the regional administration" and the "head of the city administration." Kherson Mayor Ihor Kolikhayev said he had refused to cooperate with the "new administration" appointed by the Russian forces.