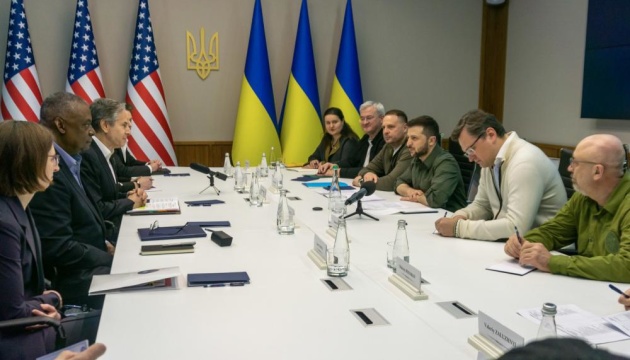 Ukraine can win if it gets right support – Pentagon chief
U.S. Secretary of Defense Lloyd Austin believes that Ukraine can win the war if it receives the right equipment and the right support.
Austin wrote this on his Twitter account following a visit to Ukraine.
"Antony Blinken and I visited Kyiv yesterday to directly demonstrate the United States' strong support for the Ukrainian Government and the incredibly brave Ukrainian people. We felt it was an important moment to be there — in person — a chance to have face to face conversations," he noted.
Austin stressed that the ministers expressed their "profound admiration for the everyday heroism exhibited by the Ukrainian people". "From soldiers on the frontlines, to those healing the wounded, even defiant grandmothers resisting Russian aggression. Their bravery has inspired the world," he said.
"We believe Ukraine can win if they have the right equipment and the right support," Austin wrote.
He also assured that the United States would continue to do everything in its power to ensure that Ukrainians receive the weapons they need "as soon as possible," Austin added.
As reported, on April 24, U.S. Secretary of State Antony Blinken and U.S. Secretary of Defense Lloyd Austin visited Kyiv, where they met with President of Ukraine Volodymyr Zelensky.
On February 24, Russia launched a new phase of its eight-year war against Ukraine – a full-scale invasion. Russian troops have been shelling and destroying key infrastructure facilities, conducting massive shelling of residential areas of Ukrainian cities and villages using artillery, multiple rocket launchers and ballistic missiles.
iy