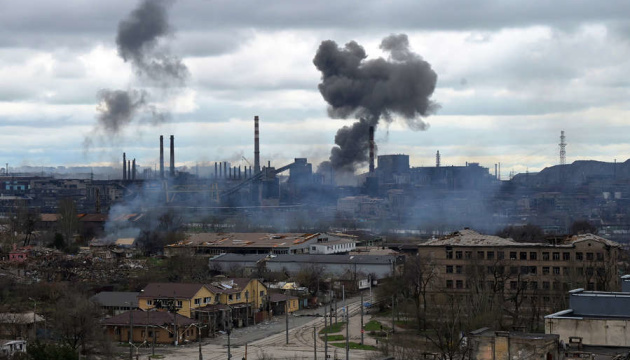 Russians drop bombs on children's heads in Mariupol during Easter – Azov Regiment
This Easter, Russian invaders continue shelling and attempting to storm the Azovstal plant in the besieged city of Mariupol, launching air strikes on children's heads.
The relevant statement was made by Azov Regiment Deputy Commander Captain Sviatoslav Palamar in a video address, an Ukrinform correspondent reports.
"Please remember, right now when you are sharing Easter images and enjoying the truce, the enemy is dropping bombs on innocent children's heads in Mariupol," Palamar told.
In his words, Russians continue to launch air strikes on Mariupol defenders and civilians, shoot with cannons, tanks and naval guns, and the enemy infantry are attempting to storm.
Palamar expressed gratitude to those who are trying to help, not in words but in deeds, Mariupol residents to get evacuated from the dangerous area and the Ukrainian military, fighting against the enemy superior forces, to break out of encirclement. Palamar urged the entire civilized world to join these efforts.
A reminder that about 1,000 civilians and Ukrainian servicemen, including about 500 wounded, are staying within the Azovstal plant in Mariupol. The Ukrainian side demands that Russia immediately ensure a humanitarian corridor from the plant.
mk