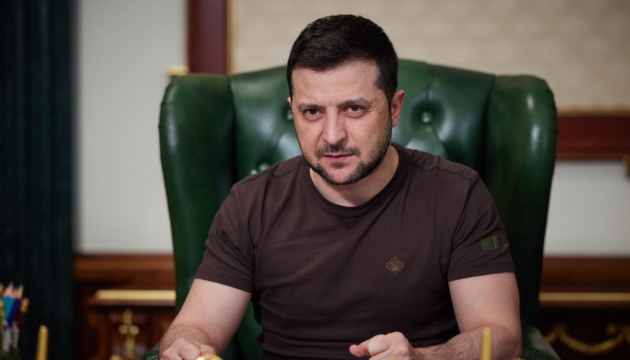 President: Ukraine will start to retake occupied territories as soon as we receive enough weapons
President Volodymyr Zelensky notes that the liberation of Ukrainian territories captured by Russian troops will depend on the pace of necessary arms supplies to Ukraine from its Western partners.
"The enemy almost reached Kyiv and fierce battles took place there. But nevertheless, we de-occupied this territory. My personal position is simple: we will retake everything they break through and everything they occupy. And it will be a matter not of 10-20 years, not of the 8-year war that has been going on since 2014. This issue will be resolved very quickly, but only if we have enough weapons. As soon as we have enough weapons, we will immediately retake this or that temporarily occupied territory," President of Ukraine Volodymyr Zelensky said at a press conference on April 23, an Ukrinform correspondent reports.
According to him, such a war is currently going on in Ukraine, and this is exactly the situation in the east. "Perhaps, every day we may, unfortunately, give up some territories to Russia due to the power of certain units, but we regain these cities at night or the next day and move forward. We do not move forward in the areas we cannot do that, where there is no support which we have been talking about in public with our partners for a long time," Zelensky said.
At the same time, he noted that the pace of arms supplies needed by Ukraine had accelerated significantly recently. Therefore, there is every chance to de-occupy the territories faster.
"Now we see changes in the attitude of our partners, especially I see changes in the speed of arms supply, especially from the United States. And if this speed will increase as promised, if the steps coincide with the words, I'm sure we will retake our territories faster," the President emphasized.
On February 24, Russian president Putin announced the beginning of a full-scale invasion of Ukraine. Russian troops shell and destroy key infrastructure facilities and residential buildings.
Part of Ukraine's territory in the east and south was captured by Russian troops during hostilities. However, the Armed Forces liberate towns and villages every day.
Photo credit: President's Office
ol