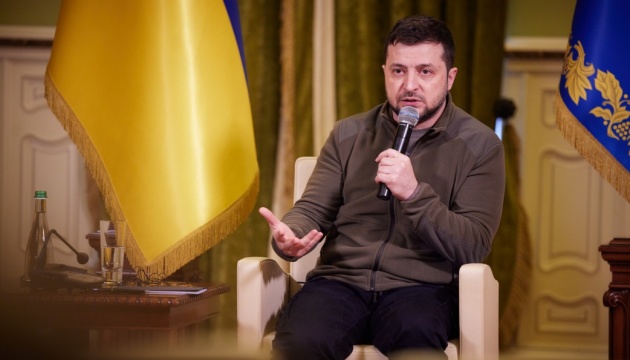 Zelensky: Ukraine to withdraw from negotiations if people in Mariupol killed, 'referendum' in Kherson held
Ukraine will deny further talks with Russia if a so-called "referendum" in Kherson is held and Ukrainians in Mariupol are killed.
"If our people in Mariupol are killed, if a pseudo-referendum in new pseudo-republics is announced, Ukraine will withdraw from any negotiation process," President of Ukraine Volodymyr Zelensky said at a press conference on April 23, an Ukrinform correspondent reports.
He added: "I believe that this will not facilitate diplomatic settlement of the situation. This will definitely hinder the end of the war. This will be definitely a wrong step taken by Russia."
According to the President, if Russia holds a "referendum" in Kherson and kills Ukrainians in Mariupol, it will mean that all previous meetings of diplomatic groups are fiction and political theater "with very bad actors."
On February 24, Russian president Vladimir Putin announced the beginning of a full-scale invasion of Ukraine. Russian troops shell and destroy key infrastructure facilities, massively fire on residential areas of Ukrainian cities, towns, and villages using artillery, MLRS, ballistic missiles, and air bombs.
Martial law has been imposed in Ukraine.
Photo: President's Office
ol