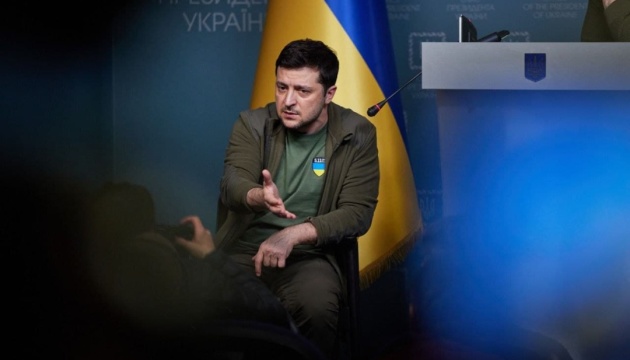 Russia sees invasion of Ukraine as first step, seeking to capture other nations, too - Zelensky
Russia's plans to seize the southern part of Ukraine to gain a corridor to the border with Moldova only confirm the assumption that invading Ukraine was Russia's first step on the path of capturing other countries.
That's according to President Volodymyr Zelensky of Ukraine, who delivered a video address to the nation on Friday, April 23, Ukrinform reports.
"Today, with reference to the Russian military, the news was spread that their task now is allegedly to establish control over the south of Ukraine and reach the Moldovan border. And allegedly there, in Moldova, the rights of Russian-speakers are violated.(…) Well, this only confirms what I have said many times: the Russian invasion of Ukraine was intended only as a beginning, then they want to capture other countries," said Zelensky.
The president has stressed that the Ukrainians will defend themselves as long as necessary to break this ambition of the Russian Federation. At the same time, he noted that all nations have to help Ukraine because the country is the first on Russia's path. "And who is next? If anyone who can become next wants to stay neutral today so as not to lose anything, this is the riskiest bet. Because you will lose everything," he said.
In the context of the so-called "protection of Russian speakers," claimed by Russian officials, Zelensky noted that the territory where the Kremlin should really protect their rights is Russia itself.
"Where poverty thrives and where human life is worthless. To the extent that they come to us, go to war to steal at least something that resembles a normal life. You know they used to talk about their biggest dream: to see Paris and die. And their behavior is now just shocking. Because their dream now is to steal a toilet and die," the president added.
As reported earlier, acting commander of the Central Military District forces Rustam Minnekayev said that one of the goals pursued by the Russian army during the second phase of the war is establishing full control of the east and south of Ukraine. He noted that controlling the south would allow Russia to gain access to the self-proclaimed Transnistria, where the rights of Russian speakers are being allegedly violated.
Photo: The Verkhovna Rada of Ukraine