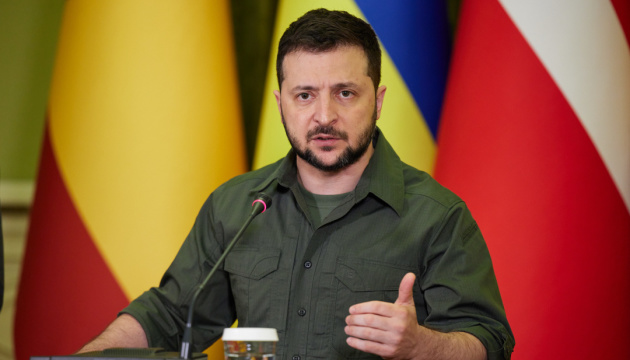 Zelensky: Situation in Mariupol remains practically unchanged
Ukrainian service members stay in the part of Mariupol under their control, the situation in the city has remained practically unchanged since yesterday.
"The situation is difficult, you know that the situation is bad. We consider that it has hardly changed since yesterday. Several thousand people are blocked [at Azovstal plant] – our military, as well as civilians who are near them, mostly women and children," President Volodymyr Zelensky said at a joint press conference with Prime Minister of Spain Pedro Sánchez and Prime Minister of Denmark Mette Frederiksen, an Ukrinform correspondent reports.
At the same time, he reminded that about 120,000 civilians were blocked throughout Mariupol.
As the President stressed, Ukraine constantly works on opening humanitarian corridors to evacuate Mariupol residents, but the Russians have been blocking this process lately.
"There was an exchange proposal, at least the exchange of wounded people for wounded people. I know that the Russian Federation received such signals. Our military, including Azov Regiment, knows about these signals, they know about this information because we are in daily contact with our guys," he added.
At the same time, when asked whether the earlier statement made by Russian defense minister about alleged Russians' control of Mariupol is true, Zelensky said: "I do not know what the Russian defense minister told the Russians. I know that they [Russian troops] captured most of Mariupol a long time ago, but there is a part of our city with our soldiers who stayed there. So far, they [Ukrainian troops] remain there."
Earlier, the media reported that Russian defense minister Sergey Shoigu reported to Putin on the so-called "liberation of Mariupol" but later added that "more than 2,000" Ukrainian defenders remained in the city.
Mariupol experiences one of the biggest humanitarian catastrophes caused by Russia's aggression. The invaders bomb unarmed residents and block the delivery of humanitarian aid.
The Mariupol mayor said that up to 20,000 civilians had died in the city since the beginning of the Russian invasion. According to the Chief Directorate of Intelligence of the Ministry of Defense of Ukraine, 13 Russian mobile crematoriums function in Mariupol to clear the streets from the bodies of dead civilians. The invaders try to identify and eliminate all potential witnesses to the atrocities.
A total of about 150,000 residents have been evacuated from Mariupol, which has been blocked by Russian invaders since February 24, to the government-controlled territory. About 120,000 residents remain in the city. Attempts to evacuate civilians are being made.
Members of the Azov Regiment, motorized rifle brigade, and Marines continue to defend Mariupol.
ol