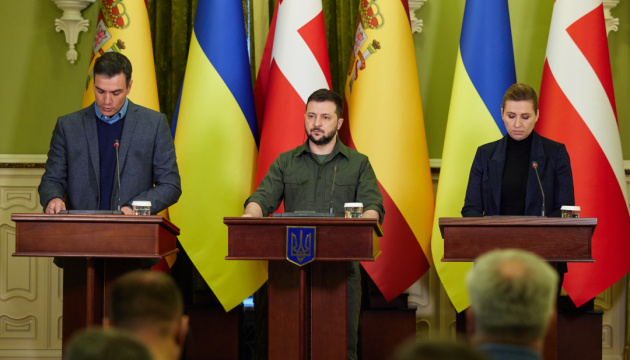 Ukraine needs heavy weapons to save people's lives - Zelensky
President Volodymyr Zelensky calls for the need to supply Ukraine with heavy weapons, which it still lacks.
The President said this at a joint press conference with the Prime Ministers of Spain and Denmark, Pedro Sanchez and Matte Frederiksen, an Ukrinform correspondent reported.
"The population [of Ukraine] has united - it's a lot, but, unfortunately, now it's not enough to resist such a large army. For example, as for military equipment, it [the Russian army] is an army of many thousands. It has thousands of tanks, thousands of armored vehicles, artillery, many things, missiles… Now we are standing, now it is our living fence, and we really want to be not a living fence made of our warriors, whom we do not have many and they are all heroes, but we want to have heavy weapons. We don't have enough heavy weapons," the President said.
Zelensky stressed that the Russians do not care how many their soldiers die, but Ukraine cares about the lives of own people.
"We really want to save the lives [of Ukrainian defenders]. This requires such weapons, it is not enough, I say frankly," the President added.
On February 24, Russian President Vladimir Putin announced the beginning of a full-scale invasion of Ukraine. Russian troops have been shelling and destroying key infrastructure facilities, conducting massive shelling of residential areas of Ukrainian cities and villages using artillery, multiple rocket launchers and ballistic missiles.
iy