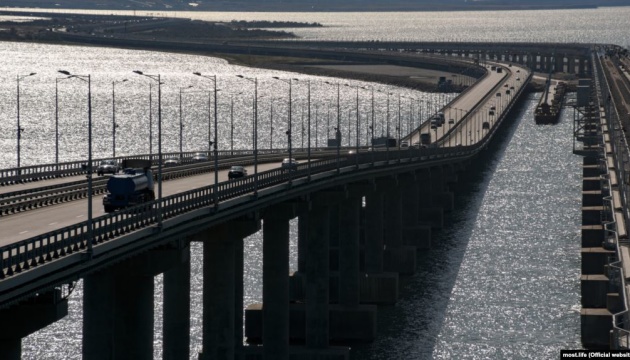 Ukraine may destroy Kerch Strait bridge once opportunity arises - NSDC secretary
Secretary of the National Security and Defense Council of Ukraine, Oleksiy Danilov, does not rule out a Ukrainian strike targeting the Kerch Strait bridge connecting the occupied Crimean peninsula with mainland Russia.
The top security official made the statement in an interview with Radio NV, Ukrinform reports.
"Had we had the ability to do it, we would've already done it. If there is an opportunity to this end, we will definitely do it," Danilov said.
Answering the question of whether he trusts Ukraine security guarantors, Danilov said that "there are three components guaranteeing our security. The first is our conscious citizens. The second is our Army, the entire security and defense sector. The third is our weapons. These are the three components I trust. "
The rest, he said, is "all these promises that people in power offer us (don't last long - ed): the administration changes and then they say, 'We didn't sign this, there was another president.' Besides, every nation (security guarantor - ed.) then interprets them in its own way," said the secretary of the National Security and Defense Council.
Danilov said he believed in Ukrainian weapons that had proven on the battlefield to be one of the world's best. "Many were saddened when we eliminated the Moskva (the Black Sea Fleet's flagship cruiser) using our Ukrainian missiles," he noted.