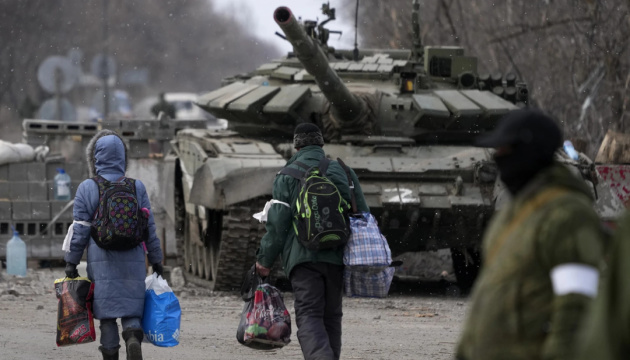 Russians holding up to 27,000 people in "filtration camps" near Mariupol
The invaders are believed to be forcibly holding more than 20,000 people in filtration camps along the Mangush-Nikolske-Yalta line.
That's according to Petro Andryushchenko, an advisor to the Mariupol mayor, Ukrinform reports.
The occupiers are deliberately dragging with their "filtration" procedure, thus delaying the transfer of civilians away from the warzone, the official said, adding that another 5,000 to 7,000 people are being held in the filtration camp in the village of Bezymianoye, "being prepared for deportation."
Earlier, the official said that Russian invaders would permanently shut all entry to and exit from Mariupol on April 18, also banning all movement across town to vet all male residents remaining in the city.
Russia's aggression has caused one of the biggest humanitarian catastrophes in Mariupol. The invaders have been bombarding unarmed residents and blocking incoming humanitarian aid.
The mayor of Mariupol previously said that since the onset of the Russian invasion, up to 20,000 civilians have been killed in the city. According to the Main Intelligence Directorate of the Ministry of Defense of Ukraine, the Russians have deployed as many as 13 mobile crematoria in Mariupol to get the bodies of killed civilians off the streets. The invaders are also trying to identify and eliminate all potential witnesses to the atrocities they have committed in the area.
About 120,000 civilians remain in besieged Mariupol.
Civilians, including children, are also being forcibly deported to Russia and the occupied areas of Donbas.
Soldiers with the Azov Regiment, Marines, and other forces continue to defend Mariupol.
Photo: Stringer, Anadolu Agency