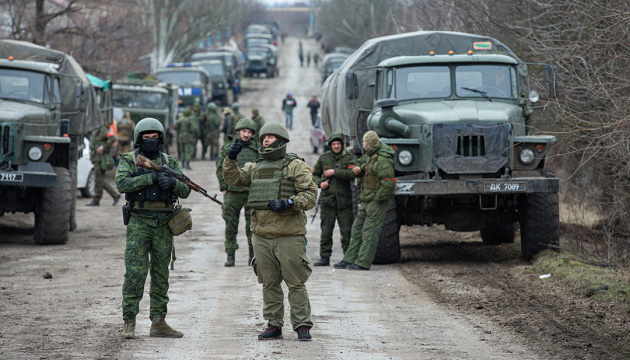 Russians erasing letter "Z" from military equipment, possibly plotting provocations in Zaporizhia region
The Russian forces are erasing the letter Z from their military hardware, setting up Ukrainian flags, in an apparent preparation for provocations in Zaporizhia region.
That's according to the General Staff of Ukraine's Armed Forces, Ukrinform reports.
As of April 17, Russian invaders continue their full-scale armed aggression against Ukraine, launching missile and bomb strikes on Ukraine's industrial and civil infrastructure.
The enemy undertook no active efforts in the Volyn and Polissya areas, the report notes.
In the Siversky direction, there is a possibility that the Russians will deploy sabotage and reconnaissance groups and launch missile strikes from the Russian territory on Ukraine's military and civilian infrastructure.
In the Slobozhansky direction, the Russians are partially blocking Kharkiv, firing on the positions of Ukrainian forces and critical infrastructure.
In the Donetsk and Tavriya directions, hostilities intensified. The Russians continue to launch missile and bomb strikes on the city of Mariupol, including with the use of Tu-22M3 strategic bombers. Assault operations were launched near the seaport and the Azovstal plant.
In the South Buh direction, the enemy continued to focus its efforts on holding ground. In the area of ​​the settlement of Vasylivka, Zaporizhia region, it was noted that the enemy is possibly plotting provocations as the Russians were seen erasing the letter Z from military equipment, setting up Ukrainian flags.
The reports of the destruction of the Moskva Cruiser by Ukraine have received considerable public outcry in Crimea. There is growing distrust among the population about the official Russian media reports.
Due to lack of human resources, the Russian invaders are trying to draft locals from the temporarily occupied territories. Thus, in the city of Izium, the forcible mobilization of male residents has begun.
Preparations for an illegal referendum on the proclamation of the so-called "Kherson People's Republic" continue in some territories temporarily occupied by the Russian forces. To falsify its outcome, it is planned to use personal data of residents, collected by the occupiers during the issue of "humanitarian aid." Information is being spread among the locals that once the pseudo-referendum results are announced, they will be "mobilized" into the Russian armed forces.
Meanwhile, over 50 cases were reported across military training fields in Russia where soldiers deserted.