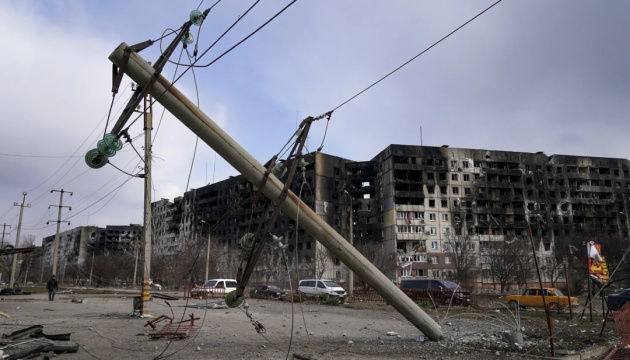 Ruins and bodies on streets: Reuters shows footage from besieged Mariupol
Reuters journalists have visited the besieged city of Mariupol, namely the area of Illich Steel and Iron Works, one of two metals plants, where Ukrainian defenders were holding out in underground tunnels and bunkers.
The relevant footage from that area was posted by Reuters, an Ukrinform correspondent reports.
"The factory was reduced to a ruin of twisted steel and blasted concrete, with no sign of defenders present. Several bodies of civilians lay scattered on nearby streets, including a woman in a pink parka and white shoes. Someone had spraypainted 'mined' on a fence by an obliterated filling station," Reuters reports.
WARNING: GRAPHIC CONTENT
In besieged Mariupol, Russian troops pressed recent advances, hoping to make up for their failure to capture Kyiv by finally seizing their first big prize of the war https://t.co/j7dGzST7o6 pic.twitter.com/NjjFxlmXqX

— Reuters (@Reuters) April 16, 2022
According to journalists, in a rare sign of life, one red car drove slowly down an otherwise empty street, the word 'children' scrawled on a card taped to the windshield.
A reminder that the Russian armed aggression has caused one of the worst humanitarian catastrophes in the city of Mariupol. Russian invaders are bombarding unarmed civilians and blocking the delivery of humanitarian aid. About 120,000 civilians are remaining trapped in Mariupol. The Azov Regiment, marines and motorized riflemen continue to fight against Russian forces to defend the city.
mk