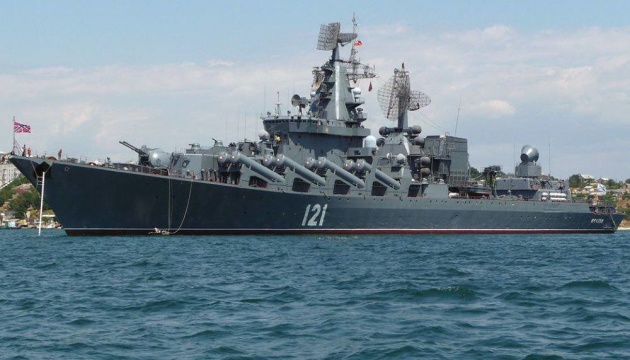 Russian cruiser Moskva capsized and began to sink – Operational Command South
The Russian Black Sea Fleet's missile cruiser Moskva, hit by a Ukrainian Neptune anti-ship missile on April 13, was seriously damaged and began to sink after a powerful explosion of ammunition.
The press service of the Operational Command South reported this on Facebook, according to Ukrinform.
"In the Black Sea operational area, the Russian Black Sea Fleet's flagship, the cruiser Moskva, was hit by a Neptune anti-ship missile and was seriously damaged. A fire broke out. Other ships wanted to assist, but a storm and a powerful explosion of ammunition capsized the ship and it began to sink," the statement said.
At the same time, the command noted that although the conditions for Russian troops landing are not favorable, the threat of missile attacks on Ukraine from both the sea and the temporarily occupied Crimea remains high.
In the Mykolaiv and Kherson directions, enemy losses amounted to 54 soldiers and eight units of equipment, including two self-propelled howitzers, a Grad multiple rocket launcher and a T-72 tank. In response to the systemic artillery shelling of the enemy last night, Ukrainian troops fired at the concentration of military equipment and ammunition in the "classic traditions of Chornobaivka," the Operational Command South said.
It also said that the enemy continues to put psychological pressure on the local population in Kherson and the Kherson region, campaigning for the creation of a quasi-republic. But neither the shelling, nor abduction, nor the bullying of the civilian population broke the spirit of the Kherson region, the command's press service said.