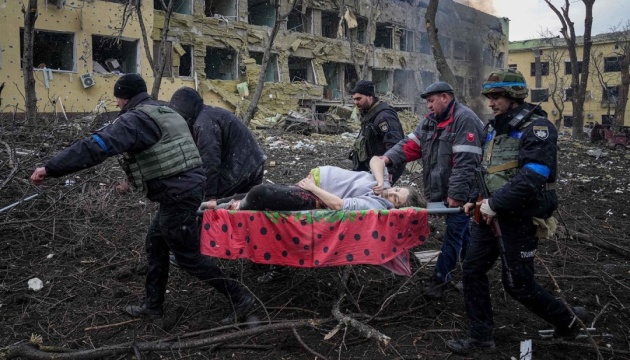 OSCE releases first international report documenting Russia's war crimes
An independent expert mission set up within the OSCE Moscow Mechanism released its report documenting human rights violations, international humanitarian law (IHL) violations, and possible war crimes committed by Russian troops in Ukraine.
The report has more than 100 pages and contains an investigation into the human rights and humanitarian consequences of the Russian Federation's invasion of Ukraine launched on February 24, 2022, an Ukrinform correspondent reports from Austria.
"The Mission found clear patterns of international humanitarian law violations by the Russian forces on many of the issues investigated. This concerns in particular their conduct of hostilities," reads the report.
According to experts, it is not conceivable that so many civilians would have been killed and injured and so many civilian objects, including houses, hospitals, cultural property, schools, multi-story residential buildings, administrative buildings, penitentiary institutions, police stations, water stations and electricity systems would have been damaged or destroyed if Russia had respected its IHL obligations in terms of distinction, proportionality and precautions in conducting hostilities in Ukraine.
"The conduct of the siege of Mariupol is an extreme example," the document underscores.
It also states that the Russian Federation is the aggressor and is responsible for all human suffering in Ukraine. In addition, the report acknowledges the Russian occupation of certain areas of Donetsk and Luhansk regions (CADLR) of Ukraine and the IHL violations there before the large-scale invasion on February 24.
"Much of the conduct of Russian forces in parts of Ukraine it occupied before and after 24 February 2022, including through its proxies, the self-proclaimed "republics" of Donetsk and Luhansk, equally violates IHL of military occupation," the experts state.
The report documents numerous crimes committed by Russian troops, including the use of cluster munitions, munitions with a large blast radius, such as large bombs or missiles, unguided missiles, artillery and mortars, multiple launch rocket systems (MLRS) and dumb bombs released by aircraft and the alleged use of incendiary weapons, white phosphorus and thermobaric or vacuum bombs, in densely populated areas.
According to experts, in most cases, attack angles, munitions used and objects hit clearly demonstrate that such attacks are attributable to Russia.
Among the numerous cases of obvious IHL violations and war crimes, the most flagrant ones were air strikes on maternity hospital and drama theater in Mariupol.
The report also points out the arrest of civilians, including journalists, by the Russian military without any procedure and with the use of ill-treatment, which is tantamount to torture.
The report also cites numerous allegations of rapes, including gang rapes committed by the Russian military, as well as documented acts of violence by the Russian military such as targeted killings, enforced disappearances or abductions of civilians.
A separate IHL violation was the use of Red Cross emblems by Russians to mark military non-medical vehicles, the use of Ukrainian flags, Ukrainian military or police uniforms and vehicles, white flags, civilian clothing and OSCE symbols to facilitate Russian military operations.
The report points out the need for a serious international investigation into the executions of large numbers of civilians during Russia's occupation of localities near Kyiv, including Bucha, testifying to war crimes and crimes against humanity committed by Russian troops.
It is underscored that official Moscow refused to contribute to the work of the independent expert mission.
As reported, 45 participating States invoked the OSCE Moscow Mechanism to document and gather evidence of possible human rights violations, violations of international humanitarian law, as well as possible war crimes and crimes against humanity committed in Ukraine by Russian troops with the support of Belarus.
Photo credit: Evgeniy Maloletka
ol