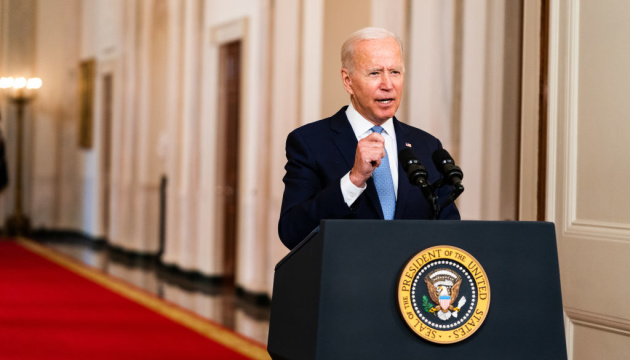 US allocates $800M in additional security assistance to Ukraine - Biden
US President Joe Biden's administration has approved an additional package of security assistance to Ukraine worth $800 million in order to strengthen the country's capabilities to defend itself against Russian aggression.
Biden said this in a statement following his call with Ukrainian President Volodymyr Zelensky, Ukrinform reports.
"I just spoke with President Zelensky and shared with him that my Administration is authorizing an additional $800 million in weapons, ammunition, and other security assistance to Ukraine," Biden said.
The new package of assistance "will contain many of the highly effective weapons systems we have already provided and new capabilities tailored to the wider assault we expect Russia to launch in eastern Ukraine."
"These new capabilities include artillery systems, artillery rounds, and armored personnel carriers. I have also approved the transfer of additional helicopters. In addition, we continue to facilitate the transfer of significant capabilities from our Allies and partners around the world," Biden said.
He stressed that the steady supply of weapons the United States and its Allies and partners have provided to Ukraine has been critical in sustaining its fight against the Russian invasion and helped ensure that Putin failed in his initial war aims to conquer and control Ukraine.
"As I assured President Zelensky, the American people will continue to stand with the brave Ukrainian people in their fight for freedom," he said.
As was reported earlier, in a phone call on Wednesday, Zelensky and Biden assessed Russian war crimes, discussed an additional package of defensive assistance and possible macro-financial support to Ukraine, and agreed to toughen sanctions against Russia.