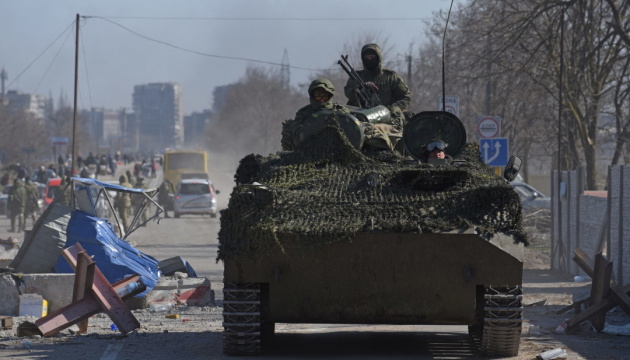 In east, south of Ukraine, Russians ready for offensive action - General Staff
Russian invaders are systemically hitting Ukrainian infrastructure in Kharkiv and Zaporizhia regions with missiles and bombs. In Donetsk and Tavria directions, the enemy is ready to go on an offensive.
That's according to an operational update by the Ukrainian Army's General Staff, Ukrinform reports.
Also, in Volyn, Polissya, and Siversky directions, the Russians took no serious action on Wednesday, only moving individual units in certain areas.
In the Slobozhansky direction, the enemy is partially blocking Kharkiv. Being unable to capture the city, Russian invaders are destroying the city's infrastructure in artillery strikes.
In Donetsk and Tavria directions, the Russian enemy is ready for offensive action, according to intelligence. Their focus is on capturing certain quarters of Mariupol and inflicting airstrikes on the area.
The Russians are attempting to carry out assault operations in the areas of Sivierodonetsk, Rubizhne, and Popasna.
In the South Buh direction, the Russians continue air reconnaissance in order to locate Ukrainian Army's positions.
In combat operations in parts of the south-eastern regions of Ukraine, separate units of the 103rd, 109th, 113th, 125th, and 127th Motorized Rifle Regiments operate as part of a grouping of enemy troops. They were recruited during the forcible mobilization in the temporarily occupied territories of Donetsk and Luhansk regions. Structurally, these regiments consist of up to five 300-strong battalions. Only 5-10% of personnel have some combat experience. The regiment's command consists of Russian officers. These groups are facing significant issues with provision of weapons, ammunition, and medicine.
The Russian invaders pursue the unlawful treatment of the civilian population in the temporarily occupied territories. The Russians are checking people's documents, personal belongings, and mobile phones, as well as raid households.
In some occupied territories of Kharkiv region, the Russians have disrupted the local mobile communication network. They are exerting an aggressive informational and psychological influence on the population. It is mostly aimed at trying to convince them that resistance is futile.
"We urge citizens not to believe in hostile propaganda and to continue total resistance," the General Staff concluded.