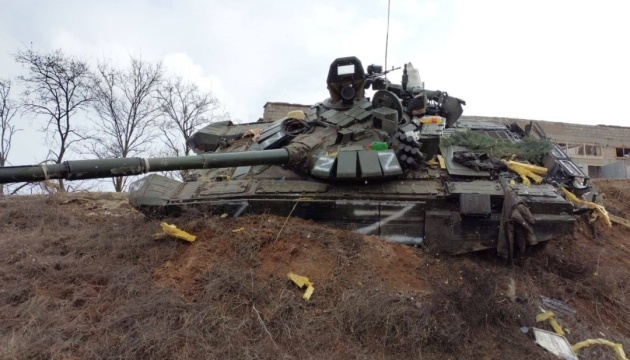 In Kharkiv region, Ukrainian army destroyed column of tanks on a 'tip' from Russian propagandist - journalist
In Kharkiv region, in the Izium direction, the Ukrainian Armed Forces destroyed a column of tanks of the Kantemirov division, which was shown in a video shared by Russian propagandist Alexander Kots.
Editor-in-chief of the online publication Censor.Net, Yuriy Butusov, who is currently in Kharkiv region, said this on his YouTube channel, Ukrinform reports.
"April 12. A new column of Russian tanks of the 4th Guards Tank Division of Kantemirov, the parade division of the Russian armed forces, entered eastern Ukraine... The column was completely destroyed, and this T-80 became a trophy," Butusov said.
He noted that recently this column, which was crossing the Siverskyy Donets River in the area of Izium "for a decisive breakthrough," was shown by propagandist Aleksandr Kots.
On February 24, Russian President Vladimir Putin announced the beginning of a full-scale invasion of Ukraine. Russian troops have been shelling and destroying key infrastructure facilities, conducting massive shelling of residential areas of Ukrainian cities and villages using artillery, multiple rocket launchers and ballistic missiles.
iy