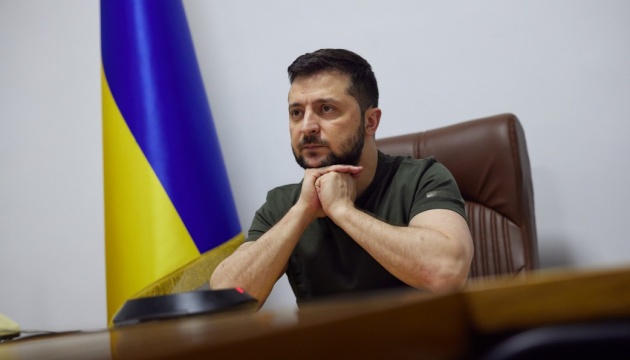 Russian invaders rape even babies in Ukraine – Zelensky
Hundreds of cases of rape committed by Russian troops have already been recorded in Ukraine, including against underage girls, children and even a baby.
The relevant statement was made by Ukrainian President Volodymyr Zelensky during his speech in the Parliament of the Republic of Lithuania, an Ukrinform correspondent reports.
"In the liberated areas of Ukraine, work continues to record and investigate war crimes committed by the Russian Federation. Almost every day new mass graves are found. Evidence is being gathered. Thousands and thousands of victims. Hundreds of cases of brutal torture. Human corpses are still found in manholes and basements. Tied up, mutilated bodies. There are villages – once quite large, which were left almost without inhabitants. Hundreds of children are orphans. That is, at least hundreds of children, because we do not know the exact number of victims yet. Hundreds of cases of rape have been recorded, including underage girls, very young children... And even a baby! It's just scary to talk about it now. But it's true, it happened," Zelensky told.
In his words, the person who committed that crime against the baby was identified. It is Russian soldier Bychkov from Pskov, the paratrooper or special services officer. He even sent a video to his comrades, depicting how he tormented the baby.
"This is the Russian military. 'Defender' of children. This is a 'special operation' planned in Moscow. This is the story of the struggle for the 'Russian world'. This is what the Russian army and Russian paratroopers will now be associated with. From Pskov. Rape of a baby," the President of Ukraine noted.
According to Zelensky, Russian propagandists must have already started to justify this. They are probably saying, as always, that this has not happened, or even if it did happen, it was the protection of the 'Russian-speaking' community.
The President of Ukraine stressed that Russian propagandists will also be responsible for this crime, and any such crime, as well as those who educated such paratroopers from Pskov and those who refuse to remove Russian propaganda from the television network in Europe.
"And I wonder how do the Minister of Defense of the Russian Federation and other authors of this 'special operation' evaluate its results now? After such crimes. After such a 'feat' of Russian soldier Bychkov? Perhaps, the Russian Minister of Defense will invite such Pskov paratroopers to his home to protect his children and grandchildren? Or the minister wouldn't want that? I'm sure he'll be scared," Zelensky said.
A reminder that, on February 24, 2022, Russian President Vladimir Putin initiated a full-scale invasion of Ukraine, starting a war. Russian troops are shelling and destroying the key infrastructure facilities, launching missile and air strikes on residential areas in Ukrainian cities and villages, torturing and murdering civilians.
mk