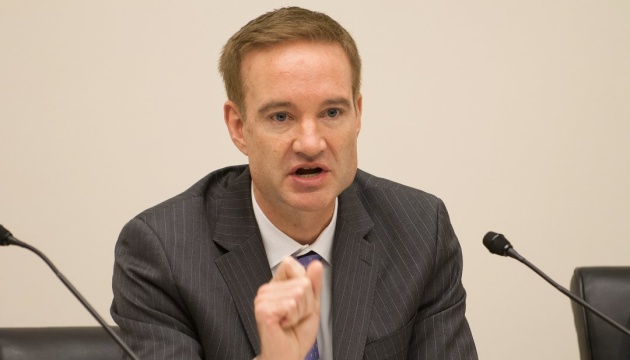 US at OSCE: Russia will be held accountable for Kramatorsk, Bucha, Mariupol, Kharkiv
The United States will make every effort to hold Russia accountable for all its war crimes committed in Ukraine.
"Let there be no doubt that Russia will be held accountable for the Kramatorsk missile strike, the civilian deaths in Bucha, and the continuing destruction of Mariupol and Kharkiv. We have already said that we assess that members of Russian armed forces have committed war crimes in Ukraine. The United States is committed to pursuing accountability for those responsible for such crimes," Ambassador Michael Carpenter, U.S. Permanent Representative to OSCE, said at a special meeting of the OSCE Permanent Council dedicated to Russia's missile attack on the Kramatorsk railway station.
According to the diplomat, the United States assesses that Russians fired a short-range ballistic missile on the Kramatorsk railway station.
As noted, in addition to providing Ukraine with the largest amount of security assistance of any country in the world, the United States is also supporting a range of accountability mechanisms in Ukraine, including investigations by Ukraine's national authorities, international investigative mechanisms, and the important work of human rights documenters.
"Right now, at the request of the Prosecutor General of Ukraine, the United States is supporting a multi-national team of international prosecutors and other war crimes experts deployed to the region. This interdisciplinary team, which includes American experts, is directly supporting the efforts of Ukraine's Prosecutor General's War Crimes Units to collect, preserve, and analyze evidence of atrocities with a view toward pursuing criminal accountability processes," Carpenter said.
He also mentioned the Moscow Mechanism invoked at the OSCE by 45 participating States to investigate possible war crimes and violations of international humanitarian and human rights law resulting from Russia's war against Ukraine.
"We are committed to using every tool available to ensure those responsible are held accountable for atrocities," the U.S. Permanent Representative to OSCE stressed.
On April 8, Russian troops launched a missile strike on the Kramatorsk railway station from which the population is evacuated daily.
According to the latest reports, 59 civilians were killed and 109 more were injured.
President Volodymyr Zelensky stated that the missile had been fired from Tochka-U system.
Russian propaganda traditionally denied the involvement of the Russian Federation in the missile strike, and the Russian Defence Ministry said that the Russian army allegedly did not use the Tochka-U systems.
ol