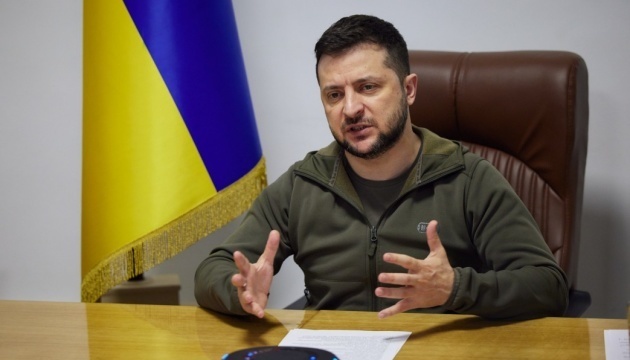 President Zelensky: Ukraine not getting as much weapons as needed to end this war sooner
When it comes to the necessary weapons, Ukraine depends on the supply from partners and, unfortunately, is not getting as much as it needs to end this war sooner.
The relevant statement was made by Ukrainian President Volodymyr Zelensky in his video address, an Ukrinform correspondent reports.
In his words, Ukraine's key task, both today and every day at this time, are concrete defensive measures, a concrete increase in the ability to repel any attacks by Russian troops.
According to Zelensky, he is dealing with this issue almost around the clock, but the military and technical capabilities of the enemy are still very high.
"Yes, Ukrainians are incomparably braver. Our Armed Forces are beating the occupiers with wisdom and well-thought-out tactics inaccessible to the Russian military. But, when it comes to the necessary weapons, we still depend on the supply, on our partners. Unfortunately, we are not getting as much as we need to end this war sooner. To completely destroy the enemy on our land. And to fulfill those tasks that are obvious to each of our people. In particular, to unblock Mariupol," the President of Ukraine stressed.
According to Zelensky, if Ukraine got jets and enough heavy armored vehicles, the necessary artillery, they would be able to do it.
"But... We still have to agree on this. We still have to persuade. We still have to squeeze out the necessary decisions. I am sure that we will get almost everything we need. But not only time is being lost. The lives of Ukrainians are being lost. Lives that can no longer be returned. And this is also the responsibility of those who still keep the weapons Ukraine needs in their armory. The responsibility that will forever remain in history," Zelensky added.
Meanwhile, Ukraine's gratitude will also remain in history. Gratitude to those states and politicians who really helped. Who did not waste time. Who didn't bargain when life depended on help, Zelensky stressed.
mk