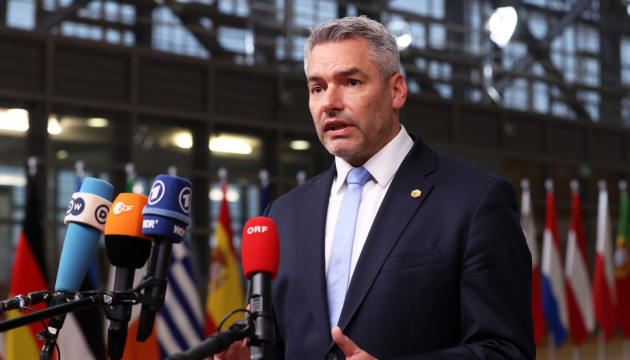 Austrian chancellor says 'no positive impressions' after meeting with Putin
Austrian Chancellor Karl Nehammer has said he did not receive any positive impressions or signals at a meeting with Russian President Vladimir Putin.
He stated this after the meeting, Ukrinform reports, citing Austria's news site Kurier.
Nehammer said that he had a "very direct, open and tough" conversation about Russia's war crimes, particularly in Bucha and elsewhere, and the need to bring perpetrators to justice. However, Putin's reaction showed no signs of his willingness to cooperate.
"Generally, there are no positive impressions and promising prospects. […] Putin has massively entered into the logic of war and acts accordingly," Nehammer said.
According to him, the Kremlin leader said that it would be better if the war (he used this word) ended soon. At the same time, he described the horrific crimes in Bucha as a "staging" and the West's reaction as distrust.
Nehammer told Putin that sanctions against Russia will remain in force and will be intensified as long as people die in Ukraine.
He also called for an immediate cessation of hostilities, the provision of humanitarian corridors for evacuation, including from Mariupol and other besieged cities, and access for the ICRC and other humanitarian organizations.
"But my most important message to Putin was that this war must finally end, because in a war there are only losers on both sides," he said.
According to the chancellor, his visit to Moscow was prompted by his "duty [...] to achieve an end to hostilities or at least humanitarian progress for the affected civilian population in Ukraine."
"This is not a friendly visit. I have just come from Ukraine and have seen with my own eyes the immeasurable suffering caused by the Russian war of aggression," he said.
Nehammer is the first EU head of government received by Putin after Russia's full-scale invasion of Ukraine began. The meeting lasted 75 minutes. At the request of the Austrian side, there were no journalists or traditional briefing. According to the Austrian side, there was no handshake.
On April 9, Nehammer paid a visit to Ukraine and he met with President Volodymyr Zelensky.
Photo: AA