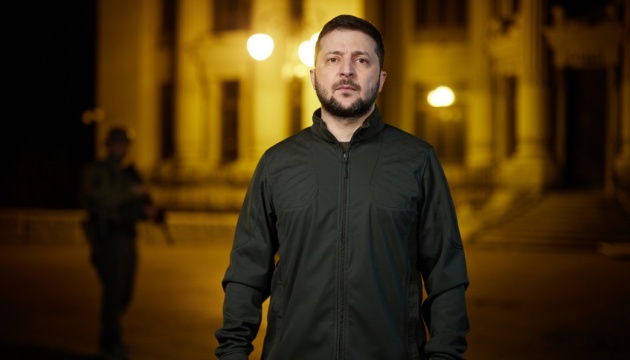 Russia preparing new offensive, gathering forces and military equipment - Zelensky
The Russian Federation is preparing a new offensive on Ukraine.
President of Ukraine Volodymyr Zelensky said this in his speech to the parliament of South Korea, an Ukrinform correspondent reported.
"Fighting continues in some areas of our territory. Russia is preparing another offensive, hoping to break our national resistance. The occupiers have accumulated tens of thousands of soldiers and a huge amount of military equipment to try to strike new blows," Zelensky said.
He noted that the exact number of people killed in the Russian attacks has not been determined yet, as clean-up operations are still underway in the affected areas.
Zelensky called on the world to impose even more strict sanctions on Russia to force the aggressor country to stop the war.
"Our anti-war coalition, formed after the beginning of this brutal Russian invasion, has already imposed unprecedented sanctions on it [Russia], but it is not enough. Russia does not yet feel that it must stop. This means that more needs to be done, and not only at the state level. Russian banks need to be completely disconnected from the global financial system, Russian exports of energy resources, especially oil, need to be curtailed. In addition, global companies need to stop sponsoring the barbaric state that believes it has the right to destroy the lives of the people," Zelensky said.
At the same time, he stressed that Russia would not stop itself. Therefore, it is necessary to force it to stop the war, to stop mocking people, to force to respect the right to life of neighboring peoples, to leave Ukraine. Zelensky noted that now Russia believes that for some reason it has the right to sow lawlessness and death in the world.
The Ukrainian head of state is convinced that the more companies stop operations with Russia, the faster Russia will abandon its militancy and seek compromises with the world.
"It has come to the point that Russia is openly blackmailing the world with nuclear and chemical weapons, but working strategically, we need to protect the people here and protect those who are directly threatened by the Russian army right now. For 47 days, we have been defending ourselves against virtually the entire Russian army, against its combat units. The Armed Forces of Ukraine are fighting heroically, very wisely, rationally," Zelensky said, emphasizing that Ukraine, of course, receives assistance from a number of countries, for which it is very grateful.
On February 24, Russian President Vladimir Putin announced the beginning of a full-scale invasion of Ukraine. Russian troops have been shelling and destroying key infrastructure facilities, conducting massive shelling of residential areas of Ukrainian cities and villages using artillery, multiple rocket launchers and ballistic missiles.
iy