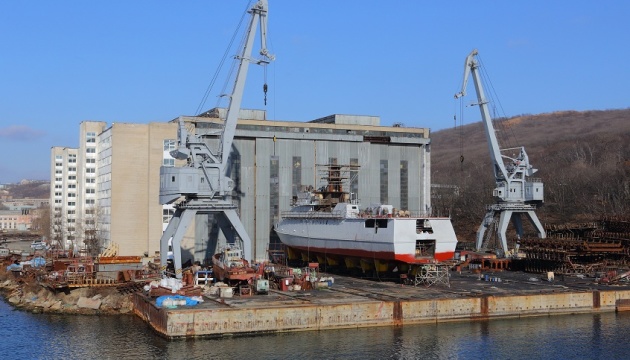 Russian shipyards halt production of ships due to lack of foreign components - intelligence
The Russian military-industrial complex remains dependent on imported high technology, which is why Russia is unable to continue the production of modern weapons. Thus, Russian shipyards stop the production of ships due to the lack of foreign components.
According to Ukrinform, the press office of the Main Intelligence Directorate of the Ministry of Defense of Ukraine reported this on Facebook.
"At the Russian shipyards, there is a critical situation in the implementation of existing contracts for the construction and maintenance of warships. It was caused by the difficult financial situation and lack of foreign components," the statement said.
In particular, it is noted that Vostochnaya Verf JSC (Vladivostok) is to execute state orders totaling 35 billion rubles. This includes the construction and supply of two sea tankers, two small rocket ships, two mobile offshore berths, repair and maintenance of ships and boats of various types. At the same time, from the letter of a military representative of the Russian Defense Ministry it becomes clear that by early April 2022 all work has been suspended due to the strained financial situation. Personnel are being laid off, and contract execution deadlines have been disrupted. Specifically, the companies are being prepared to begin bankruptcy proceedings.
The Defense Ministry's Main Intelligence Directorate also reported that another letter from the military representative indicates a total lack of foreign components for the continuation of work on the construction of warships and respective systems. The list of equipment, whose production had to be halted, includes steering columns, navigation systems, and radios, among others. The authors of the letter report that it is impossible to find Russian or Asian substitutes for imported components.
Production of gunpowder charges for naval artillery has also been stopped due to the lack of foreign components and the absence of Russian analogs.
As reported by Ukrinform, at a joint press conference with British Prime Minister Boris Johnson at 10 Downing Street on Friday, German Chancellor Olaf Scholz said that sanctions against Russia are effective, they will deeply affect all sectors of the Russian economy and make it virtually uncompetitive.