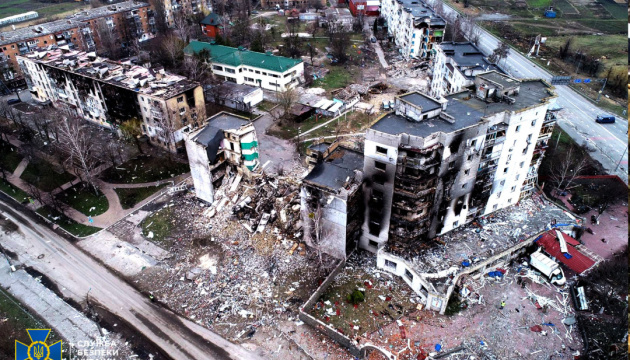 Air strikes, cluster munitions, torture: Russian war crimes documented in Bucha and Borodianka
Ukrainian law enforcement officers and forensic experts are documenting the war crimes committed by Russian troops in Bucha and Borodianka, Kyiv region.
"Prosecutors of the Kyiv Regional Prosecutor's Office jointly with investigators of the Main Department of the Security Service of Ukraine in Kyiv and Kyiv region, as well as 50 experts of forensic research institutes of the Ministry of Justice of Ukraine from different regions of the country are actively documenting the war crimes committed by the Russian Armed Forces in Bucha and Borodianka," the press services of the Prosecutor General's Office and the Security Service of Ukraine inform, Ukrinform reports.
During the armed aggression, the enemy inflicted numerous blows to the peaceful city of Borodianka – air bombing, artillery shelling, and use of prohibited cluster munitions.
While carrying out investigative actions in these territories, the prosecutors of Kyiv region, the investigators of the Security Service of Ukraine, and experts recorded much unexploded ordnance and numerous funnels formed as a result of artillery shelling.
In addition, large-scale destruction of the civilian infrastructure of localities is recorded: private and multi-story residential buildings, schools, kindergartens, healthcare facilities, churches, shops, garages, and warehouses are bombed, public and private vehicles are damaged. There are no military facilities near the affected sites. In addition, other crucial evidence of Russia's armed aggression has been established and documented.
The complete information on casualties and damaged infrastructure is being established.
Currently, a number of criminal proceedings have been instituted over violation of the laws and customs of war (Article 438 of the Criminal Code of Ukraine).
As part of the pre-trial investigation, a comprehensive examination was ordered to establish the extent of destruction and damage to movable and immovable property, to determine material damage.
As reported, Irpin, Bucha, Hostomel and the entire Kyiv region were liberated from Russian invaders. Mass killings of civilians by Russians were recorded in the liberated towns and villages. In particular, a mass grave with almost 300 people buried was found in Bucha, liberated from the invaders. Dozens of dead bodies lay on the streets, some of them with their hands tied.
ol