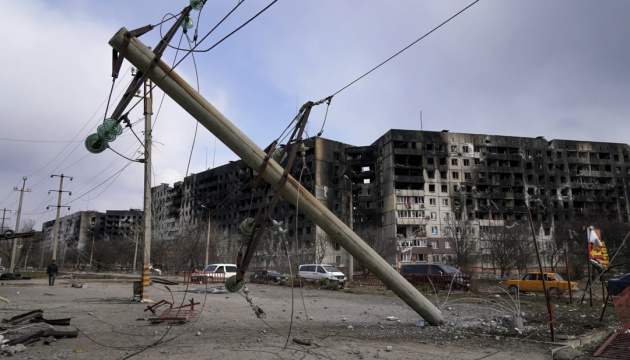 Murderers covering their tracks: Russian mobile crematoriums start working in Mariupol
Russian mobile crematoriums have started working in Mariupol to destroy any evidence of Russian army's crimes in the city.
"Murderers covering their tracks. Russian mobile crematoriums have started working in Mariupol. After the wide international coverage of the genocide in Bucha, the top leadership of the Russian Federation ordered to eliminate any evidence of crimes of its army in Mariupol," the Mariupol City Council posted on Telegram.
As noted, a week ago, cautious estimates indicated the deaths of 5,000 civilians in Mariupol. But given the size of the city, catastrophic destruction, the duration of the blockade, and fierce resistance, tens of thousands Mariupol civilians could fall victim to the occupiers.
"That is why Russia is in no hurry to give the green light to the Turkish mission and other initiatives to save and fully evacuate Mariupol. In addition, they [Russians] are trying to identify all potential witnesses of the occupiers' atrocities through filtration camps and eliminate them," the City Council stressed.
It is noted that the Russians assigned all the dirty work to collaborators. Eyewitnesses report that the Russcists involved locals and "Donetsk People's Republic" terrorists in special cleansing brigades. The collaborators collect and burn the bodies of Mariupol residents tortured and killed as a result of the Russian invasion.
These groups are coordinated directly by self-proclaimed mayor-collaborator Kostiantyn Ivashchenko. "For many years, he and his associates repeatedly tried to seize power, but in the end, he managed to become just the director of the Mariupol crematorium," the City Council explained.
Mariupol Mayor Vadym Boychenko stressed that the world had not seen the scale of the tragedy in Mariupol since the existence of Nazi concentration camps.
"The Russcists have turned our entire city into a death camp. Unfortunately, the eerie analogy receives increasing confirmation. This is no longer Chechnya or Aleppo. This is the new Auschwitz and Majdanek. The world must help punish Putin's villains," the mayor underscored.
As reported, Mariupol, Donetsk region, has been experiencing one of the biggest humanitarian catastrophes due to Russian aggression. The invaders bomb unarmed residents and block the delivery of humanitarian aid. According to Mariupol Mayor Vadym Boychenko, as of March 27, the number of civilian casualties in Mariupol was about 5,000 people, including about 210 children.
There are now about 130,000 civilians in Mariupol, blocked by Russian invaders, begging for help.
Russian troops have turned Mariupol into a huge ruin. Local residents faint from hunger in the streets, and enemy bombs bury them alive in bomb shelters.
Fighters of the Azov Regiment stay in Mariupol and continue to defend the city.
Photo: Stringer, Anadolu Agency
ol