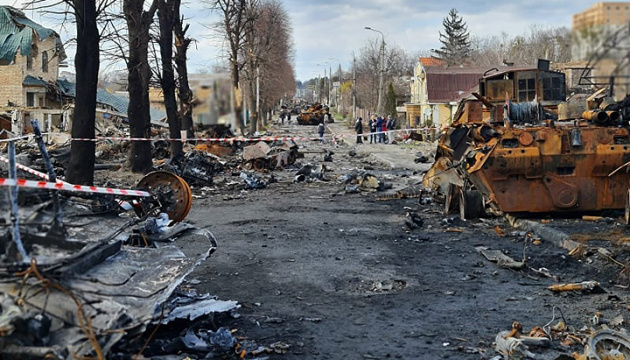 Bucha: We are those who survived and will continue to live here
Everyone, who we talked to and asked what's next, does not intend to go anywhere
Bucha. Vokzalna Street. It was here on February 27 that Ukrainian troops bombed a column of Russian equipment. Photos already known to the whole world were taken as if in hell. But it turns out that people lived here all that time and it's shocking.
Bucha has been without occupiers for several days already, but people's lives have changed little. They still cook on the fire and spend the night in the basements as it is warmer there than in the houses without windows.
The explosions blew out even doors. Good thing you have a roof over your head.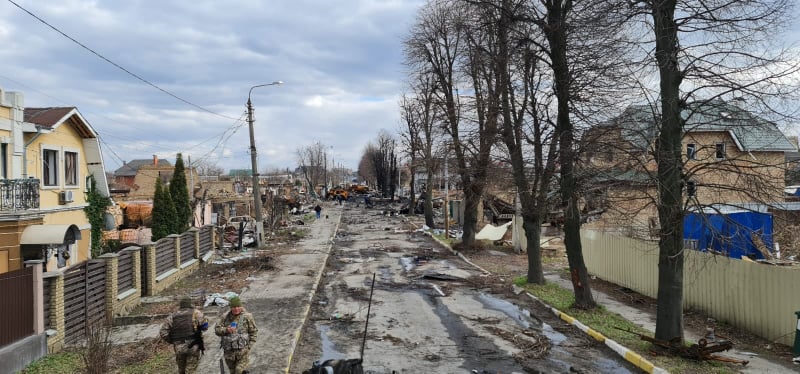 Mr. Serhiy was the first whom I saw in the yard. His wife left, and he stayed as he had undergone stomach surgery recently. He pulled up his sweater and showed me a dirty bandage.
The man had no emotions at all. He seems to have swallowed everything and is busy repairing his car.
"When they first came to me, they asked if we had any Bandera supporters. At first, there were some flat-nosed ones, twenty years old. Then came the elders carrying other weapons. Let's go, I'll show how they looted."
We go into the house. Everything inside is completely turned upside down. The home appliances they did not take, were simply smashed.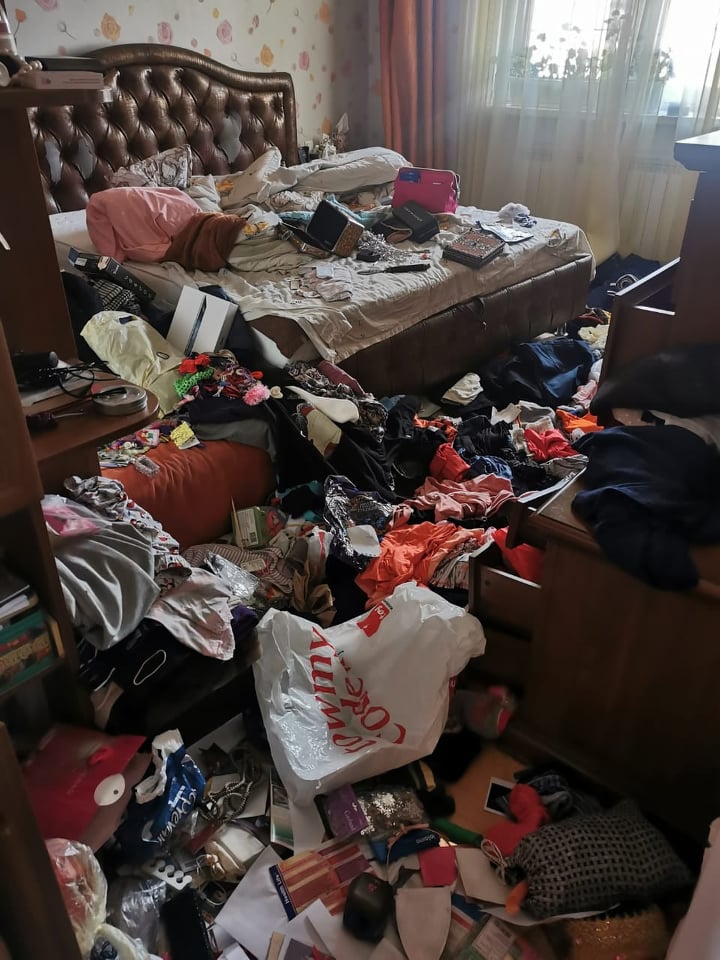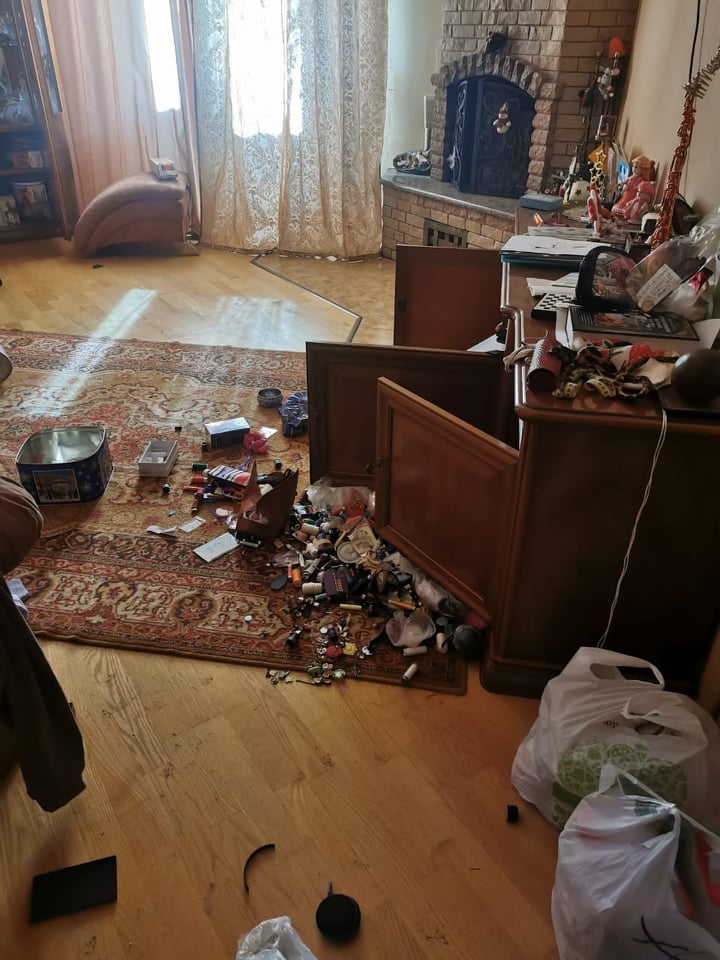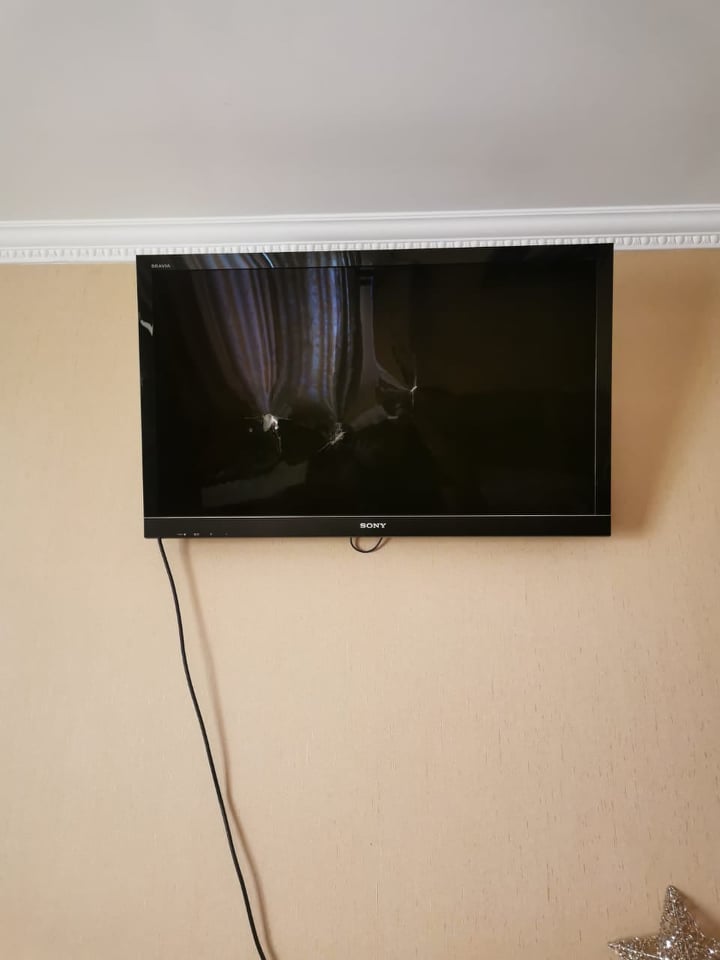 Across the street, an old lady, Mrs. Anna, lives with her husband Hrysha and son Dmytro. There are no windows or doors in the house and it is so cold that Mrs. Anna had to sleep in the basement of a kindergarten at night.
Mr. Hrysha flatly refused to leave his yard, so the son decided to stay home with his parents. "Headstrong" is now sitting and heating a pot with a blowtorch. Today, the family cooks chicken that way.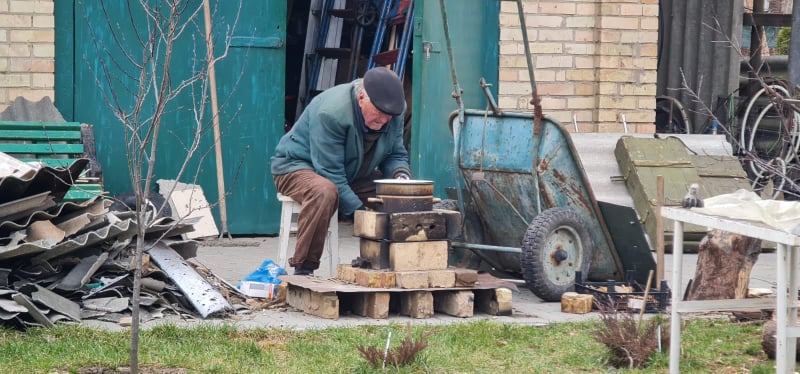 "Now I'm deaf, because how else could I survive constant uproar, bombing, and explosions. I hate my house now. It is all dirty and stinks of this smoke, it will be impossible to live there. It was all smoldering here, burning with that black soot. May he [Putin] suffocate a hundred times."
The woman will continue to spend nights in the kindergarten's basement – although the occupier left, it has not become warmer at home.
"At first there were more than five hundred people in the basement, and then a corridor was made on March 8-9 and some people left."
According to local residents, the chronology of events shows that the occupiers' equipment was smashed on February 27, and the Ukrainian military entered and stayed here until the morning of March 4. In the afternoon, the occupiers invaded again.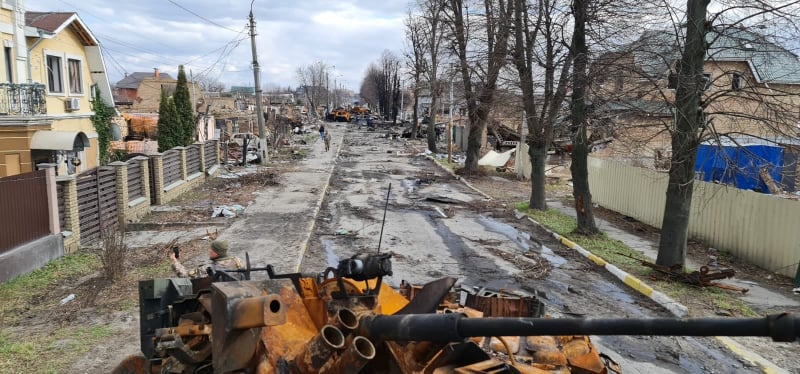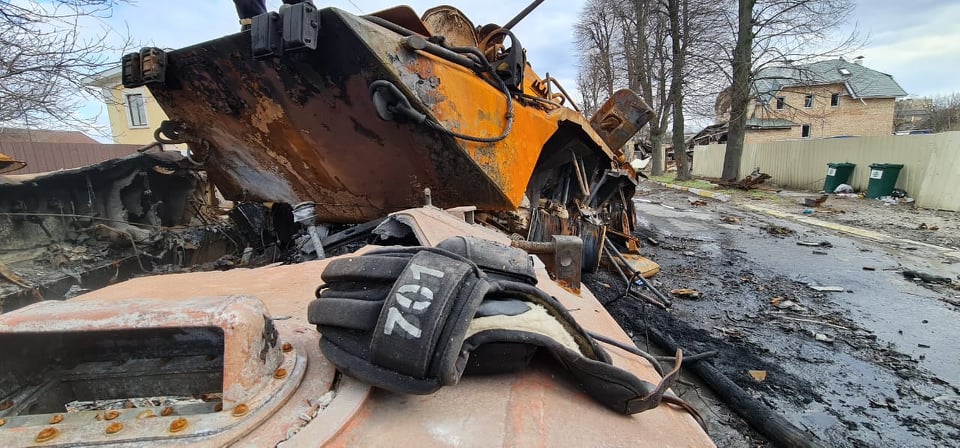 The first thing the occupiers did was take away locals' mobile phones and break them down.
"Bastards, we're short of mobile connection now," Mrs. Anna says. "We stayed at home all the time. Those who went out, were shot dead. Bodies were lying everywhere until they turned blue. Then people took them and bury in the gardens. In the neighborhood, Valerka was killed and Liuda buried him at home."
"How do you feel about the Muscovites now?" I ask Mrs. Anna.
"What I have always felt about them and now I will have this feeling forever. I don't understand them as people! Because the human mind cannot grasp it. A sane person can't even think that.
We did not believe all the time, no, not Putin, we did not believe that the people would go against us. He is a stupid schizophrenic, and the people, it turned out, they are real shit. In our country, when children were beaten on Maidan [Independence Square in Kyiv where EuroMaidan protests were held in 2013-2014], a million came out the next day. One million gathered in Kyiv. And that bastard came to us in the basement and asked: 'Were you on the square?' Imagine how intimidated they are, that going to the square is a crime for them. And how many millions of them are there."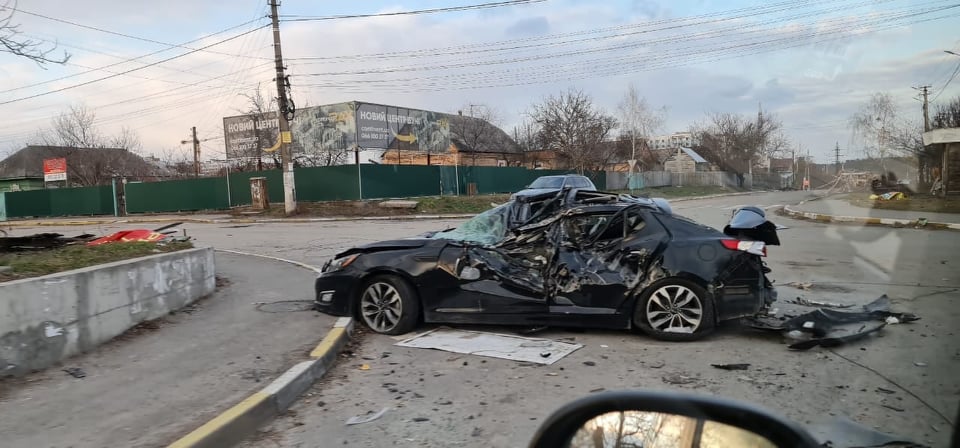 We return to the burned-out street, we want to go to that kindergarten, we see a young man carrying two packages of water in both hands. I guess it had to be local. We wanted to ask how to get to the kindergarten but instead went with him to their basement.
"We buried three people. They were our neighbors. Some were asked to show their documents. They showed documents and continued walking and then were just shot in the back. The last one killed was our Lyonia when he was closing the door to the basement where we lived. He fell dead on the stairs, and after a while, someone came and threw a grenade at him. We collected the parts of his body to bury. But, believe me, there were even worse stories. It's just a common one."
The guy's name is Yaroslav. He is about thirty years old. We want to help him carry water, but he refuses. He says it helps to deal with emotions.
Yaroslav bursts into tears from time to time. But these tears are not hysteria. That's how his pain releases.
"What are you going to do next?" I ask.
"At first, we'll clean everything up. Who will do this if not us?! We'll wait for our victory, restore our emotional state, and will build our Ukraine, our families. We heard every single shot towards Irpin. Tanks stood right next to our houses and fired around the clock. You know, a civilian must not have had such experience…"
Yaroslav is in a hurry because his mother is waiting for him.
We go with him. I want to look at his mother.
Yaroslav's mother is waiting by the side of the road and pulls her head to see if her son can be seen anywhere.
"My mommy," says the son, and tears welled up in his eyes again.
Mother meets us as her children. We do not know each other's names yet, but we are already hugging.
Mother's name is Halya. Mother Halya is crying too.
"That's where we buried them," Yaroslav points to three graves in the yard near the garages. "Here is uncle Kolia. He is like a father to me, because my father left me when I was two months old."
We approach the door of the basement, which has been their home for all these long weeks.
Yaroslav points to a shot through door and says, "This bullet was mine. Then I did not leave the basement."
"When our Lyonia was blown up," Mr. Mykola Pavliuk continues to tell this horrible story, "we didn't go out for 24 hours.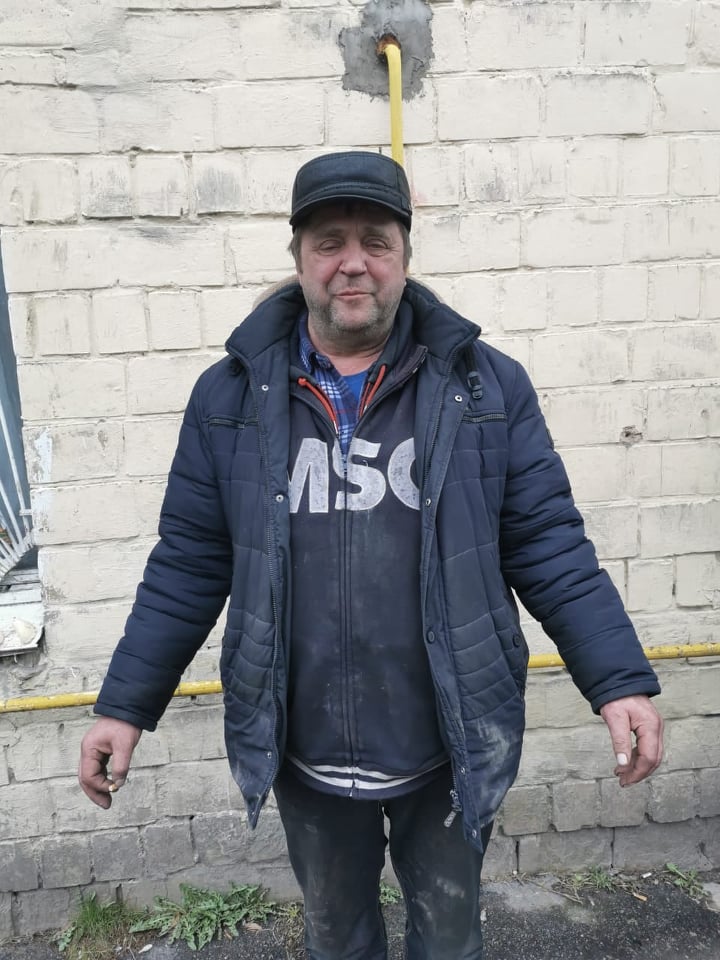 Then they came. We all stood in the dark with our hands raised so that they could see our hands as they came in. Because they could just shoot us dead.
Then came a man and allowed the first two to be buried. He warned us not to be afraid. Lyonia had almost no head, his legs were separate from his torso. We took out one part first, then the other. All three are residents of our house. Zhenia is buried near his car. He was the first to be killed in his apartment. He was first beaten fiercely and then shot dead. The first Lyonia was shot near the house. Right there, we poured sand on the blood spots. And the second Lyonia was first shot dead and then blown up with a grenade.
I can't tell you how difficult it was for me today to write messages for their relatives," Mr. Mykola weeps, "because we survived them. And I am responsible for this house. People call me the manager. Imagine they didn't allow me to go into Lyonia's apartment and get an icon. He had the keys on his belt, I begged them on my knees to allow me to arrange a decent burial. They allowed me to enter the apartment in their presence. They found the icon. And I took only that icon. There was a note in Lyonia's apartment: 'I'm sorry we live so poorly.' I don't know when he wrote it, but probably after they invaded.
I do not know people kinder than those who live in our house. I did not know a person kinder than Lyonia."
Yaroslav takes his dog out of the basement:
"The only American we have here is my Staffordshire Terrier Volcano."
All those days Volcano stayed with people in the basement. Now he is so happy, he is spinning around and does not sit still for a second, but all that time in the basement he just slept under a blanket.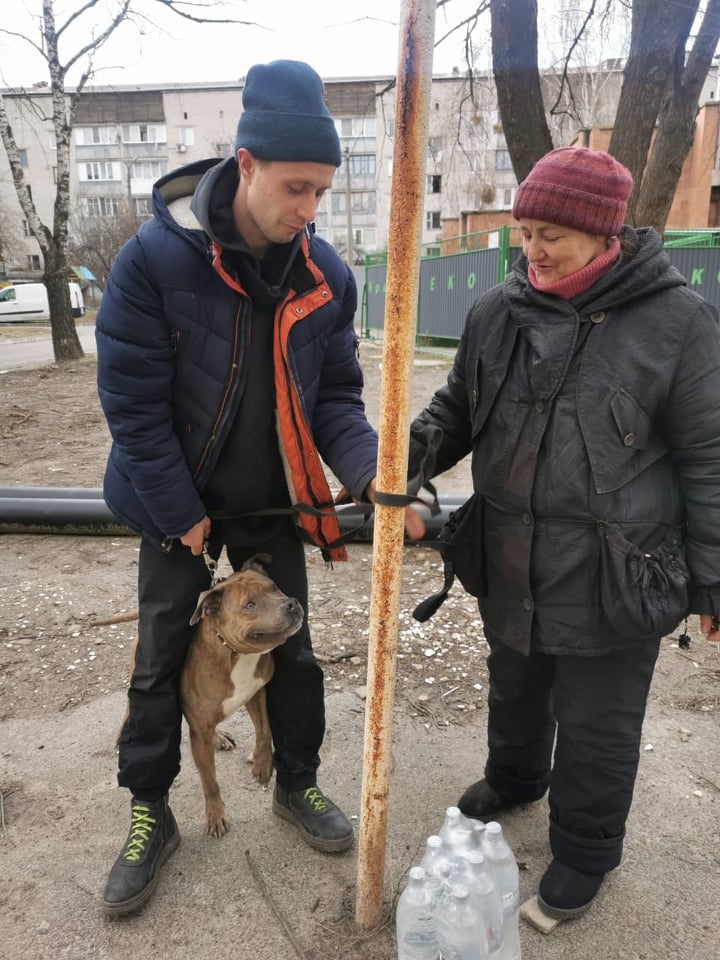 "We were just under their feet. They did to us what they wanted. If they wanted, they took us out or took us in. The basement was locked from the outside."
"What did you eat?" I wonder.
"Every three days we were allowed to cook something on the fire near the house. The curfew was from 17:00 to 09:00 Moscow time. We were controlled by ordinary thugs. Such wankers that it is difficult to call them people."
A man comes up and asks for a bag because there is a body burned in the car lying in the yard.
"There is only a backbone left. What is left must be buried."
He is given a tarpaulin bag.
"We buried our people in the same bags," Yaroslav says.
I wanted to go to the basement to see where they had lived all this time, but Mr. Mykola said that I had better not see it.
Then we went to the kindergarten, where people still spend the night and cook on the fire.
It seemed to me that if people are liberated, field kitchens already should be here, where people would be given hot food and tea. Because this is the least we can do for them now. But there is nothing like that yet.
Here I was allowed to go into the basement. It's just concrete premises that are not suitable for living here, but people were breathing and made them warmer than a house without windows.
People used a bucket as a toilet…
"You can't imagine what smell was here," Mrs. Svitlana says.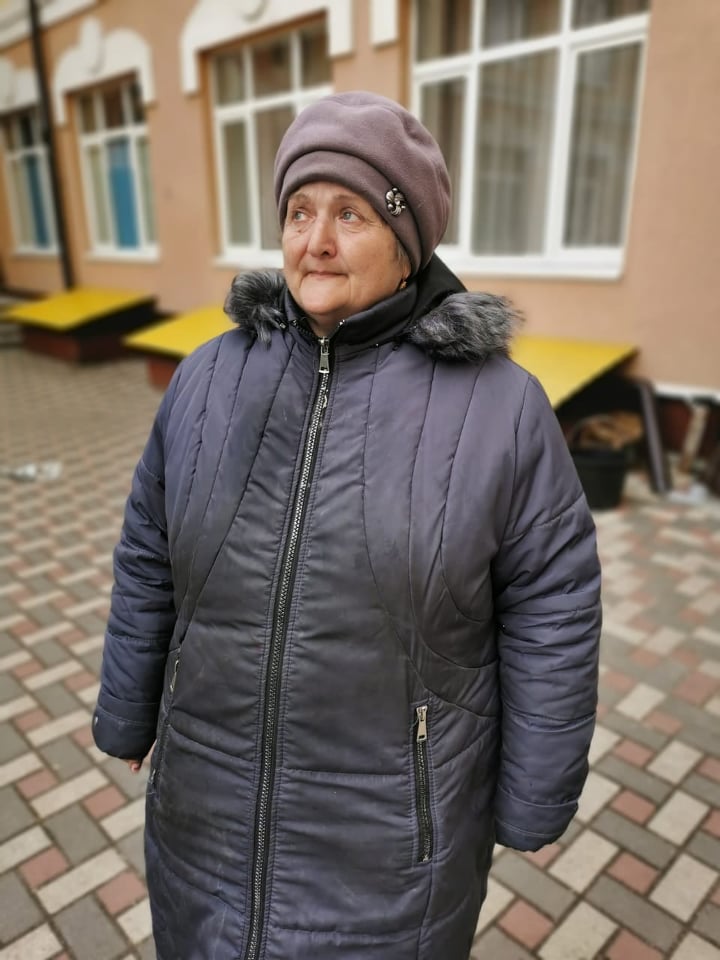 "They killed three people here first, and then three more. A guard stood right behind the gate. Only women were allowed to go for water, men were shot immediately. A 82-year-old man was killed. Shot in the back. Why did they kill him?! And a 32-year-old woman was shot in the head… Every time I went to feed the cats, I prayed 'Our Father ..' because every moment I waited to be shot in the back. You know, it's an unpleasant feeling… One [Russian soldier] from Tver town told me, 'We're so poor compared to you. And you live much better here.'
As they fled, five KAMAZ trucks were standing near the house. They robbed everything. Every house was searched. They shit in our toilets till the top, and then stuck Ukrainian flags, if they were in apartments, in their feces.
They even took dog and cat food. Which surprised us a lot. They took meat grinders and slippers … My father liberated Kyiv, Irpin, and Romanivka from the Nazis. And now I have to put up with that?! But they [Russians] are worse than the Nazis. The Nazis did not do that, as my grandmother used to say."
People came out of the kindergarten basement when they were allowed to. There were days when people were not even allowed to make tea.
We spent only two hours here and talked to only a few people from a few streets and it's even hard to imagine how many different stories and even worse there are but it's impossible to measure someone's pain or grief…
A few minutes drive, we see one of the mass graves in Bucha, located near the Church of St. Andrew the First Called. We prayed.
We see men nearby. We ask who buried these people.
"We did. Under a death threat, fearing we could be shot, we walked the streets with wheelbarrows and collected bodies. The bodies were lying for several days, and we went out to collect them. We buried 67 bodies in one grave. In the other one, we do not know how many. It remained unearthed. Some were buried in separate graves of several killed.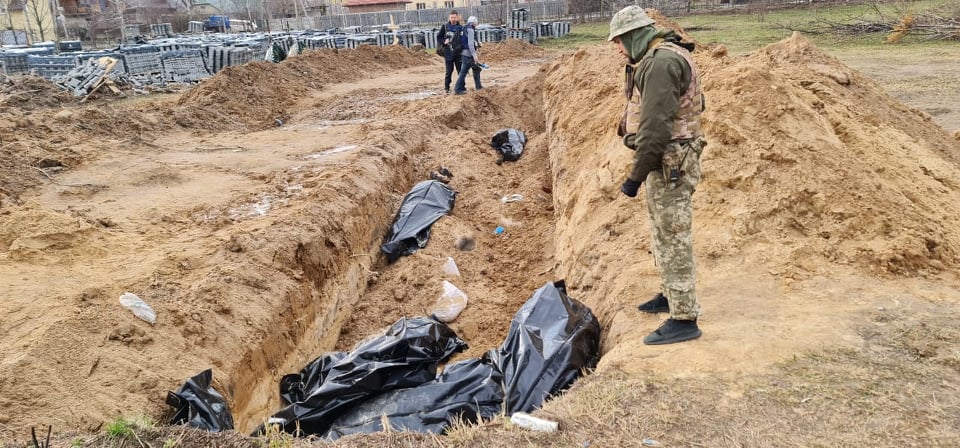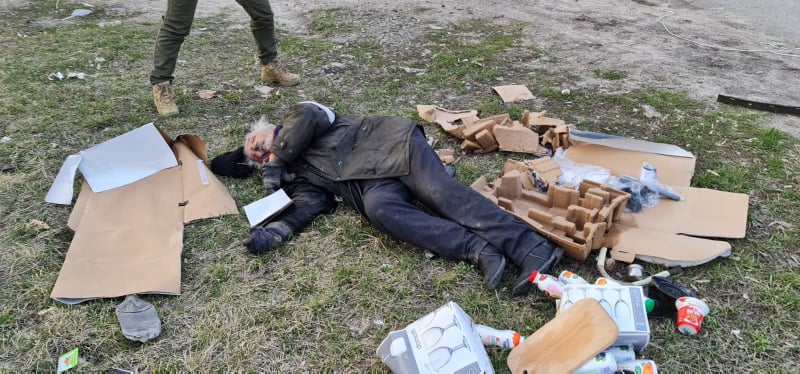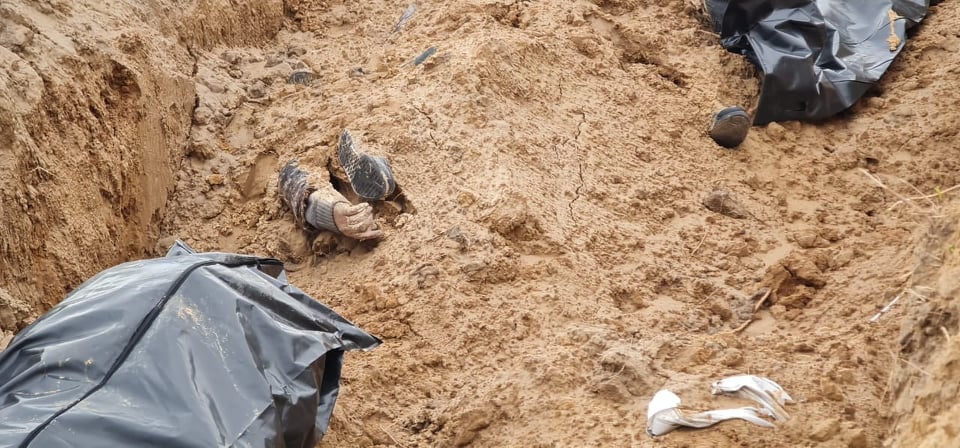 We drove mostly through the central streets, from which we could see the ruined side streets and alleys. Almost all houses are ruined.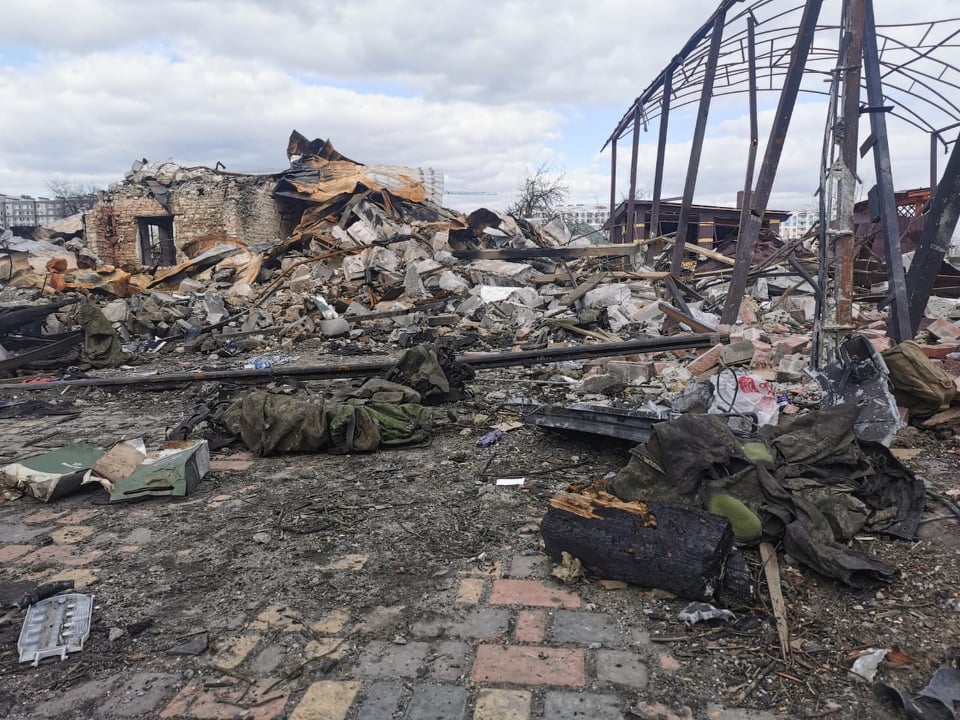 The military and rescuers continue to move from house to house, from street to street, finding new victims of Russcist terror. And even a few days after the occupiers left, the bodies of people, who were deprived of the right to just a common burial, are still lying on the central streets.
People who survived this hell still want to live in their home, on their land. Everyone, who we asked what's next, does not intend to go anywhere. They don't complain that they haven't washed all these weeks, even though they've just turned black from soot. They didn't seem to complain at all during all this time and it seems that people just don't know the words to describe what they had experienced. They don't know because there were no such definitions in our language until now, before this war.
Oksana Klymonchuk
Photo credit: Oleh Reveha