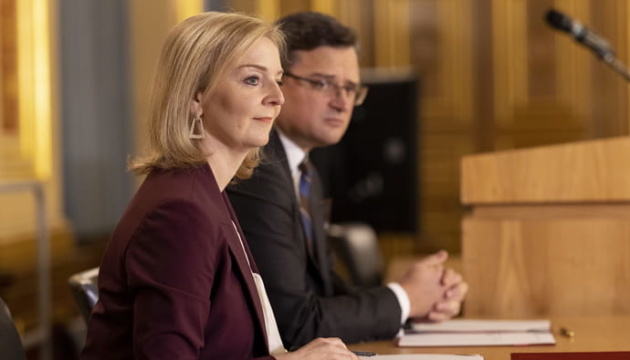 Kuleba, Truss discuss sanctions against Russia
Ukrainian Foreign Minister Dmytro Kuleba and UK Foreign Secretary Liz Truss have discussed sanctions that should be imposed against Russia.
Kuleba said this at a joint press conference with Truss in Warsaw on Monday, according to an Ukrinform correspondent.
"We have discussed the sanctions that should be imposed against Russia without delay. In fact, we have a common opinion with Liz, and I appreciate that Ukraine and Britain are united on this issue," he said.
Kuleba noted that the horrors of Bucha, Mariupol and other cities require serious sanctions from the G7 and the EU: "Half-measures are not enough any more. I call on our partners, on behalf of the victims of Bucha and the people of Ukraine, to apply the most severe sanctions against Russia this week."
He also stressed that although he appreciates everything that has been done, the West continues to feed the Russian military machine with payments, minerals, trade between Russia and Western countries, as well as financial transactions through Russian banks.
"If you still have any hesitation or arguments in order to continue cooperation with Russia, come to Bucha and then talk to me. The same applies to weapons for Ukraine," Kuleba said.