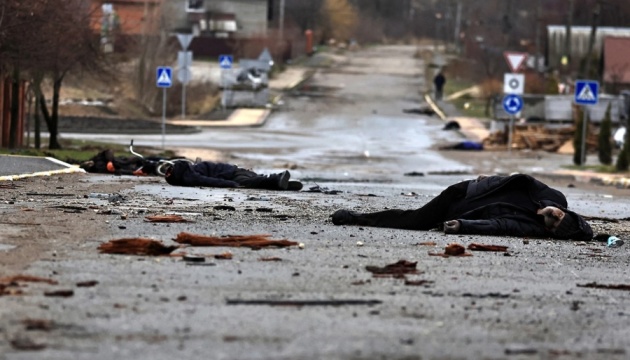 Putting blame on Ukraine for own crimes part of Russia's plan - UK ambassador
Abducting, torturing, and executing local administration chiefs seems to be part of Russia's playbook, as well as shifting blame onto Ukraine.
That's according to British Ambassador to Ukraine Melinda Simmons.
"Abducting, torturing, executing brave and resolute regional and local administration heads, even their families too - look like being part of the Russian playbook. Projecting these crimes on to Ukraine - also part of the plan. Both need calling out. And holding to account," Simmons tweeted Monday.
As Ukrinform reported earlier, the towns of Irpin, Bucha, Hostomel, and the entire Kyiv region were recently liberated from Russian invaders. Mass killings of civilians by Russian forces have been recorded in these settlements.
European Parliament President Roberta Metsola has been "appalled" by Russian atrocities.
Earlier, on April 1, Bucha Mayor Anatoliy Fedoruk said 280 bodies of slain civilians had been buried in mass graves. Foreign Minister Dmytro Kuleba called on the Group of Seven to impose new sanctions on Russia immediately.