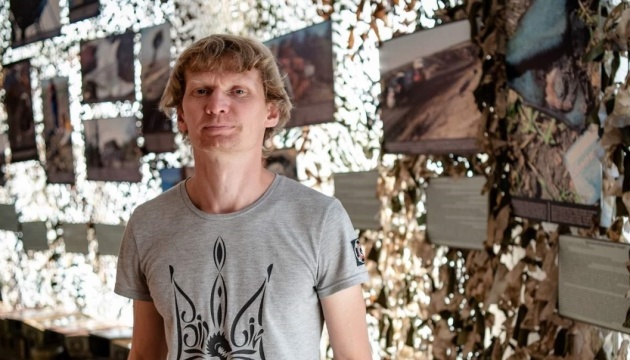 Documentary photographer, photojournalist Maks Levin found dead in Kyiv region
Police found Ukrainian photojournalist, documentary photographer Maks Levin dead near the village of Huta Mezhyhirska in Kyiv region. He left four minor sons, a wife, and elderly parents.
"On April 1, after long searches in the area of ​​ the village of Huta Mezhyhirska in Kyiv region, the police found photojournalist, documentary photographer Maks Levin dead. Maks, accompanied by Oleksiy Chernyshov, a serviceman and former photographer, went to Huta Mezhyhirska on March 13 to document the consequences of the Russian aggression. They left a car and headed towards the village of Moshchun. Since then, the connection with both men was lost. Later it became known that intense fighting broke out in the area where Maks was going to work. The whereabouts and fate of Oleksiy Chernyshov have not been established yet," LB.ua Ukrainian media outlet reports, for which Levin worked for more than 10 years.
According to the preliminary information released by the press service of the Prosecutor General's Office, unarmed Levin was killed with two shots from small arms by servicemen of the Russian Armed Forces.
The case over violation of laws and customs of war (Article 438 of the Criminal Code of Ukraine) was opened. The pre-trial investigation is underway, measures are being taken to establish all the circumstances of the crime.
Maks Levin was born on July 7, 1981, in Kyiv region. For more than 10 years, he worked in the editorial office of LB.ua, also contributed for Reuters, BBC, TRT World, Associated Press, Hromadske. His photos were published by the Wall Street Journal, TIME, Breaking news Poland, EU AGENDA, World news, The Moscow Time, Korrespondent.net, ELLE, TV-24, Radio Bulgaria, Ukraine Crisis Media center, Vatican news, RFE/RL.
Most of his documentary projects are related to the war in Ukraine. "Every Ukrainian photographer dreams of taking a photo that will stop the war," the journalist explained.
In 2014, together with his colleague Markiyan Lyseyko, Levin founded the AFTER ILOVAISK, afterilovaisk.com, a military project to preserve and rethink the significance of the events of August 2014 by the military, their families and citizens of Ukraine in general. Maks was one of those who managed to get out of the Ilovaisk trap alive.
In addition to journalism, Levin created dozens of photo and video projects for humanitarian organizations, such as the World Health Organization (WHO), UN, UNICEF, OSCE, UN Women.
Oleksiy Chernyshov and Maks Levin worked together for many years. In 2014, at the height of the Revolution of Dignity, they got wounded during a rally near the Kyiv-Sviatoshynskyi court on January 10.
Maks Levin left four minor sons, a common-law wife, and elderly parents.
Assistance to family:
Monobank: 4441114420335646 – Zoriana Stelmakh
PrivatBank: 5168757403122528 – Inna Varenytsia
ol