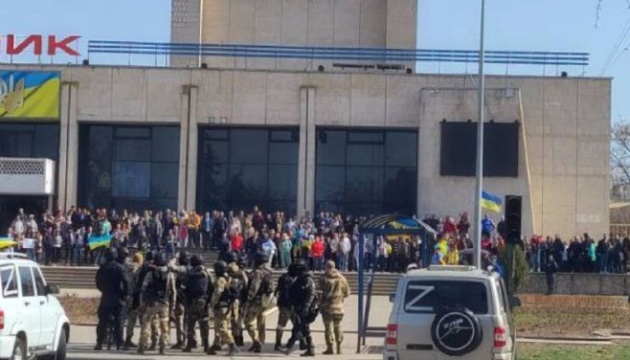 Invaders fire on pro-Ukrainian rally participants in Enerhodar
A series of loud explosions have just taken place in Enerhodar, Zaporizhzhia region.
The occupiers thus tried to disperse the people who came to the pro-Ukrainian rally.
"A series of loud explosions has taken place in Enerhodar. This morning, the town residents gathered for a peaceful rally in support of Ukraine. They sang the anthem and talked to each other. Russcist occupiers were watching them. When Enerhodar residents started to go away, paddy wagons approached, in which the invaders began to pack locals," National Nuclear Energy Generating Company of Ukraine "Energoatom" posted on Telegram, Ukrinform reports.
It is noted that explosions and mass shelling took place in the town center.
As can be seen in the video, people began to run away. The car alarms sounded even in the streets far from the place of explosion.
It is also reported that communications are being jammed in the town.
"The wired Internet is not working, it is impossible to make phone calls. The Russcists are acting in such a way to prevent the world from finding out about their crimes against peaceful Enerhodar residents! In particular, about today's explosions and mass shelling of innocent people," the publication reads.
There is currently no official information on the wounded or killed.
As reported, the Zaporizhzhia NPP and the town of Enerhodar have been occupied by Russian troops since March 4. Apart from the Russian military, representatives of the Russian nuclear energy corporation Rosatom have been illegally staying at the Zaporizhzhia NPP for a long time.
ol