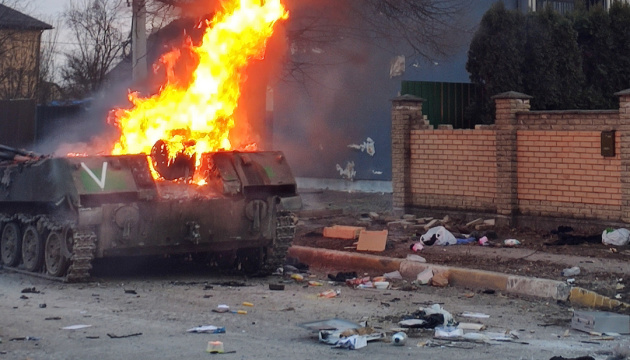 Russian forces left Bucha, mined city's buildings and infrastructure – General Staff
When leaving the city of Bucha in Kyiv region, the Russian troops mined civilian buildings and infrastructure.
The General Staff of Ukraine wrote this on Facebook, Ukrinform reports.
According to the General Staff, the Russian Federation continues to conduct full-scale armed aggression against Ukraine. The withdrawal of separate units from the territory of Kyiv and Chernihiv regions continues, as well as the regrouping of enemy troops, presumably to create strike groups in the Slobozhansky and Donetsk directions.
"When leaving the city of Bucha, the Russian invaders mined civilian buildings, infrastructure and areas within the settlement," reads the report.
In Zaporizhzhia region, in the city of Enerhodar, in the territory of a military unit of the National Guard of Ukraine, the Russian invaders continue to detain local residents.
In addition, the Russian invaders plan to hold the so-called referendum on April 4 in the city of Tokmak. In particular, the Russians already notified the local population about this event.
The city of Melitopol is temporarily controlled by the Russian military. The enemy continues to place artillery systems in the residential areas.
"The Russian invaders do not give up the idea of introducing the educational process in educational institutions according to their own standards and in Russian in April 2022. Educators who agree to teach subjects are promised a monetary reward. Also, the Russian invaders continue attempts to distribute so-called 'humanitarian aid' to local residents. At the same time, they seize the Ukrainian humanitarian aid coming from the city of Zaporizhzhia," the report says.
The war with Russian invaders has been going on in Ukraine since February 24.