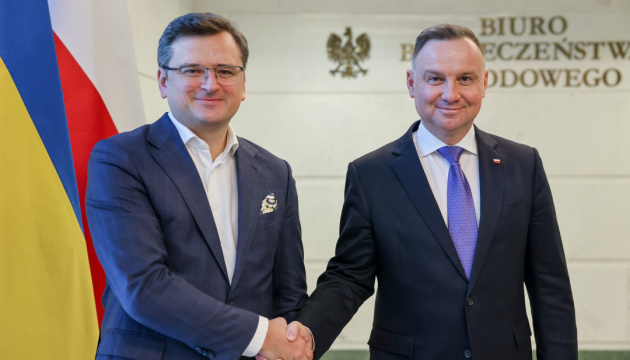 Kuleba meets with Duda in Warsaw
Ukrainian Foreign Minister Dmytro Kuleba and Polish President Andrzej Duda at a meeting in Warsaw discussed the defense and support of Ukraine.
The Ukrainian foreign minister wrote this on his Twitter account, Ukrinform reports
"In development of their active dialogue with President Volodymyr Zelensky, Polish President Andrzej Duda received me in Warsaw today," he wrote.
Kuleba added that Ukraine highly values Poland's strong support for Ukraine and hospitality towards Ukrainians, noting "free and strong Ukraine means free and strong Poland and Europe."
In turn, the Chancellery of the Polish President wrote on Twitter that the conversation between Kuleba and Duda focused on the situation in Ukraine, the state of Ukraine's defense against Russian aggression and the support Poland provides to its eastern neighbor.
Rozmowa Prezydenta @AndrzejDuda z szefem ukraińskiej dyplomacji @DmytroKuleba dotyczyła sytuacji w Ukrainie, stanu obrony Ukrainy przed agresją rosyjską oraz wsparcia, jakiego Polska udziela wschodniemu sąsiadowi. pic.twitter.com/lgoNq6sxyX

— Kancelaria Prezydenta (@prezydentpl) March 31, 2022
As Ukrinform reported, Foreign Minister Dmytro Kuleba met with Polish Prime Minister Mateusz Morawiecki in Warsaw on March 30.
Poland has received 2.3 million refugees from Ukraine since the Russian invasion began.
On February 24, Russian President Putin declared war on Ukraine and launched a large-scale invasion.