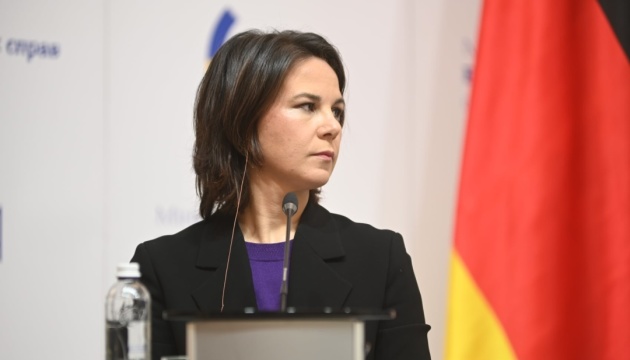 Baerbock accuses Russia of aiming to destroy Mariupol
German Foreign Minister Annalena Baerbock has accused Moscow of intending to destroy the Ukrainian city of Mariupol, and made another attempt to call on Russia to return to humanity.
The top diplomat said this in a statement on the situation of Mariupol on March 31, Ukrinform reported.
"In my opinion, Russia is determined to conquer the city or destroy it, no matter the human cost," the German Foreign Minister said.
According to Baerbock, despite the fact that the terrible reports remain unchanged from day to day, it is impossible to lose sight of the people and the situation in this Ukrainian city and to think less of it.
"More than 100,000 civilians remain trapped in Mariupol – including children, women, men, the elderly; for weeks they have experienced an almost unbelievable nightmare without electricity, water, or heating in the city, constantly attacked by Russian bombs, where rockets and grenades are falling, and which is being razed to the ground," said the minister.
"The attacks must stop immediately. International humanitarian law must be respected. Therefore, I call on the Russian government to provide safe corridors for the voluntary evacuation of civilians and to deliver humanitarian aid to those who cannot or do not want to leave," Baerbock urged the Moscow authorities.
As Ukrinform reported, German Foreign Minister Annalena Baerbock at the Berlin Energy Transition Dialogue forum confirmed Germany's intention to completely abandon Russian energy sources.
Photo: Press Service of the Ukrainian Foreign Ministry